PARENTING TIPS
10 Questions You've Been Dying To Ask About Disney, Answered By An Expert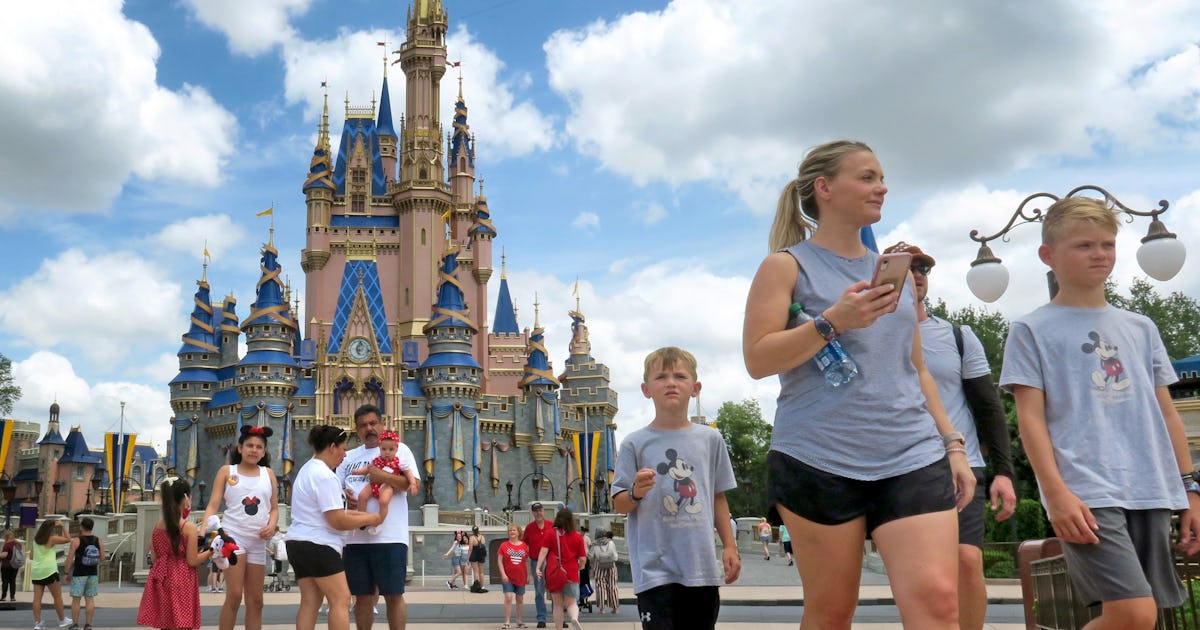 Visiting Disney World for the first time? Whether it's your inaugural visit or you simply haven't been to the parks since childhood, you may have some questions. Scratch that — with how much planning is involved in a Disney World vacation now, you may have a lot of questions.
But what about the questions you're too afraid to ask when it comes to planning your Disney World trip? That's where I come in. I write about Disney World full-time as part of my job at WDW Magazine, and these are the more-common-than-you'd-think questions that people have but may feel too scared to ask about Disney World.
1. Is Disney World *just* for kids?
Absolutely not. This Disney adult would like to share that some of my best trips to Disney World have been adult-only, where we've enjoyed drinking around the World (Showcase) at EPCOT or watching the Magic Kingdom fireworks from the top of Disney's Contemporary Resort at California Grill.
Yes, Disney World is great for kids, but that doesn't mean it can't be a magical place for adults as well.
2. Are all the parks connected?
Disney World is located on a massive 25,000 acres of land. Since the parks are actually pretty spread out, various modes of transportation take you from one park to another.
Complimentary buses are available to get you wherever you want to go. If you take the Monorail from Magic Kingdom to the Transportation & Ticket Center, you can transfer lines to take it to EPCOT. You can also use the Disney Skyliner to travel between Disney's Hollywood Studios and EPCOT. Disney's Animal Kingdom is the only park you will only be able to access by bus.
3. Can I just wing it when I get to the parks?
Unfortunately, no. I've had a lot of family and friends who hadn't been to the parks since the early 2000s, and when they've gone recently, every single one told me they were shocked by how much planning goes into a day.
A day at the parks involves making a Park Pass reservation in advance, dining reservations (which you can make 60 days out), and potentially signing up for a Virtual Queue for a ride or purchasing Disney Genie+. Maybe it's just the Type A planner in me, but there's too much to decide in advance just to show up the day of and enjoy the parks.
4. Is Magic Kingdom the only park worth visiting?
Nope! While Magic Kingdom is the most visited park, and the one most people think of when they think "Disney World," it's just one of the four theme parks to enjoy.
For movie fans, Disney's Hollywood Studios is a must-do, with the chance to step into the world of Star Wars or Toy Story. EPCOT is a chance to visit different countries at World Showcase or blast off with the Guardians of the Galaxy.
And Disney's Animal Kingdom (my personal favorite park) will let you take a safari or enjoy the world of Pandora from Avatar.
While Magic Kingdom is incredible, each and every one of the parks has just as many wonderful spots that make them just as worthy of a visit.
5. Are adults allowed to order off the kids' menu at restaurants?
The answer to this depends on each restaurant's policy. Some restaurants will have no problem letting you order off the kids' menu, while others may allow you to do it but give you an upcharge for an adult ordering it. I've been able to in the past, but I know experiences can vary on this.
6. Are there babysitters at the hotels?
Currently, Disney World hotels do not offer babysitting services. Select hotels offer kids' clubs, like Camp Dolphin at the Walt Disney World Dolphin Hotel.
While not associated directly with Disney, you can also use services like Kids' Nite Out, which provides paid in-room sitters that will come watch your kids at the hotel if you are going out to dinner. Their rates start at $30/hour for one child and up to $42/hour for five or more children, with a four-hour minimum charge. If you want to use the service, you'll need to book in advance on their website.
7. Can I stay in Cinderella Castle?
While people can stay in the jaw-dropping suite located inside Cinderella Castle, you can't book it. Instead, staying in Cinderella Castle is exclusive and by invitation only. In the past, it has been used as a prize in sweepstakes or by Make-a-Wish recipients.
8. Can I use a resort pool even if I'm not staying at the hotel?
Disney World has some incredible resort hotel pools with fun theming and water park-worthy water slides. Unfortunately, you can only use a pool if you stay at that hotel. Disney World has strict pool rules that limit the use of a hotel's pool to the guests staying at that particular hotel, and you will typically need to use your MagicBand or key card to even access the pool.
There are a few "exceptions" to this rule. A few hotels share their pools, allowing guests of either hotel to use them. Examples of this include Disney's Port Orleans hotels (both French Quarter and Riverside can use each other's pools), and guests staying at the All-Star Resort hotels can use any other All-Star Resort pool.
9. Can I do everything in Disney World in one day?
Can you technically visit all four Disney World theme parks in one day? Yes. Park hopping allows you to visit a second, third, and fourth park after 2 p.m., so it is possible to get to all four theme parks in a day. Will you enjoy your day having done that? Honestly, probably not.
Disney World is absolutely massive, covering nearly 25,000 acres. Add to that the fact that there are four theme parks, two water parks, and a shopping and dining complex, and it's pretty much impossible to take that all in in a single day.
Now, if you only have one day to do Disney World, you can absolutely still have a great time. I'd recommend prioritizing exactly what you want to do, leaving time to take breaks and relax in between. If you're only visiting for a day, it may also be worth paying extra to use Disney Genie+ to skip the Standby line, allowing you to take in as much as you can in a day.
10. Will I enjoy Disney World if I'm not staying on property?
Without a doubt, yes! There are benefits to staying on property. You'll have access to Early Theme Park Entry (getting you into the parks 30 minutes early), as well as Extended Evening Hours if you're staying at a Deluxe Resort. You'll also be more in the "Disney bubble" with Disney theming and transportation to get you everywhere you need to go.
That being said, there are so many great off-site options in Orlando to consider — and they're typically less expensive than staying on-site. Because Disney World is such an attraction, many nearby hotels will offer complimentary shuttles to the theme parks, making it easy to get back and forth. There are also off-site options located right in the Disney Springs area… within walking distance, in fact!
So, while you may not have the same theming or ease of getting around, you can still have an incredibly fun, fulfilling, and potentially cheaper Disney World trip when staying off-property.
Disney World involves a lot of planning and intricacies, so believe me when I say there is no dumb question regarding the parks. Never be afraid to ask a Cast Member a question before or during your trip. At this point, they've truly heard them all.