PARENTING TIPS
150+ Family Instagram Captions To Capture Special Moments With Your Crew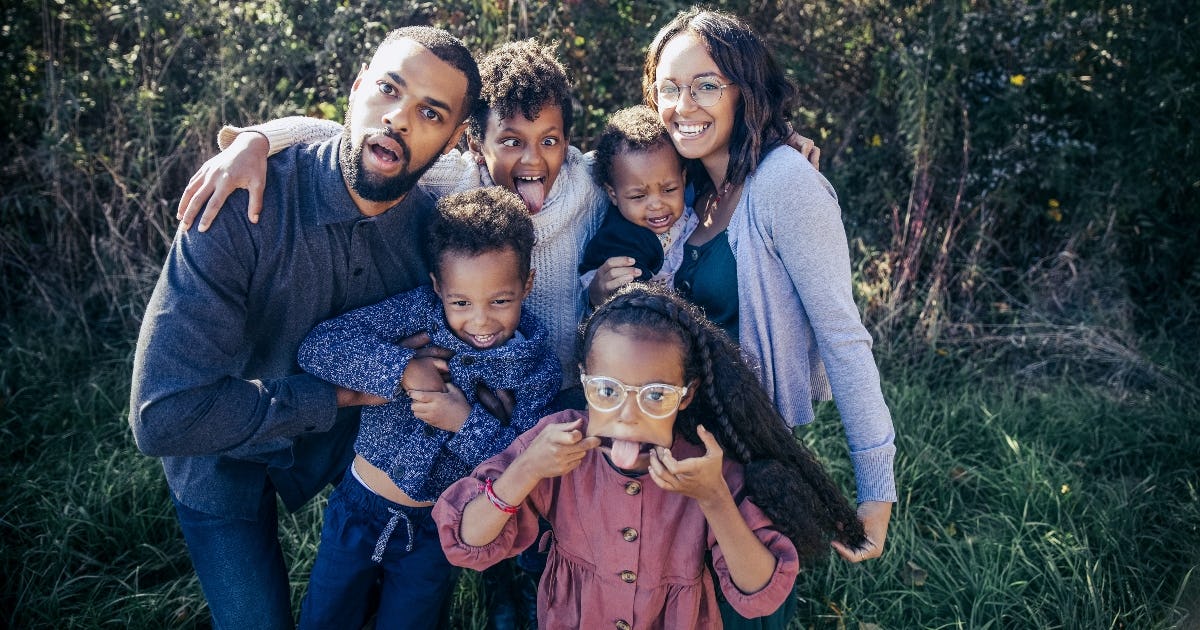 Family Instagram captions can be hard to think up on the spot, but they're a great way to give context to a moment in time with your crew. Whether it's a summer vacation photo at the beach, a picture taken by a professional photographer, or just a fun candid from around the house, family Instagram captions can serve as a reminder of what you felt when the photo was taken. Having a few cute, clever, and even cheeky captions on standby for the Gram can save you a surprising amount of time (and frustration) — especially around the holiday season when you're trying to figure out what to caption a snapshot of your entire extended family.
But first, a few tips! When posting a photo, it's important to know your audience. While Instagram is much like a digital photo album that you'll keep for yourself, remember that it won't just be you viewing it. That means you should leave truly personal information out of it.
Another consideration? Sarcastic quotes and jokes don't always translate in family Instagram captions since it can be tricky to decipher tone online. So, maybe keep the snarky zingers about your overbearing mother-in-law to a minimum (or be prepared to deal with the fallout). That's not to say family Instagram captions have to be fake or insincere, though. Sometimes a caption that reflects real-life chaos with loved ones just makes sense, but try to keep it kind if you can. And don't shy away from a long caption if you want to pay tribute to your family. If you have a lot to say about any given photo with your family, odds are you'll want to look back and revisit those sentiments in the future.
Finally, it probably doesn't come as any surprise that some of the best family Instagram captions are also the funniest. Or should we say punniest? Showing off your comedic chops — and presumably your hilarious fam's — works particularly well for sillier pictures.
Looking for some good examples? Here are some family Instagram captions you can feel good about posting.
Sentimental Family Instagram Captions
I can't imagine how these past few years would have done without my team. I'm so lucky to have the family that I do.
Having it all together is not important. What matters is that by being together, we have it all.
Making the best memories together every day.
Words can't even describe how much I love these people.
If you're part of a family, then you're part of something marvelous.
Home is the only place where hugs last a lifetime.
These are the best friends I'll keep forever.
Love these people to the moon and back.
We're all in this together, always and forever.
My family is the perfect combination of chaos and love.
This family only gets stronger every day.
It's become so important to me to capture every special moment with my favorite people on Earth — including this one.
Never forget to cherish every single moment.
Only recently have I truly understood the power of family.
I'd like to give a shout-out to the people who've gotten me through it all.
Isn't my family absolutely gorgeous? Both inside and out.
With my family by my side, it's impossible to have a bad day.
I wish I could tell my younger self that, one day, I'd have it all.
We're all growing in different ways every day, but our love will never change.
Time spent with family is never a waste of time.
I genuinely love every moment I get to spend with these guys.
Being able to spend more time with my family has been such a joy in every way.
Blood doesn't make a family — love does.
"How sweet it is to be loved by you." — James Taylor
Family makes a person a human being.
"Ohana means family. Family means nobody gets left behind or forgotten." — Lilo and Stitch
I never knew what love was until these people entered my life.
I wish there were more hours in the day so I could spend even more time with my favorite people.
Family, forever, for always, and no matter what.
If you have a family like mine, you have more than enough to be thankful for.
A family is like branches on a tree. We all grow in different directions, but our roots remain as one.
A family is a circle of strength, love, and laughter.
Family is everything, and I'm blessed.
We might not be blood-related, but we're bonded by love, adoration, and respect.
Even if I had the power to choose my family, I'd always go with these guys — always and forever.
Memory is a keepsake of time that lives in the heart.
At the end of the day, a loving family should find everything forgivable.
The best choice I made was saying "I do."
Cherish your human connections — your relationships with friends and family.
There's no other place I'd rather be.
Parenting these incredible kids has been one of my greatest achievements.
I've learned that it is not what I have in my life, but who I have in my life that counts.
Laughter, understanding, and kindness from my family has made me realize that together, we can do anything.
Life is meant to be shared with those you love.
Love is caring for each other even when things get tough.
It's easy to be happy when you have so many daily reasons to smile.
These guys provide so much light on the darkest of days.
A house is made of bricks and beams; a home is made of love and dreams.
The best time is always found when family and friends gather around.
You don't choose your family; they are a gift to you, as you are to them.
Funny Family Captions
In case anyone wanted a family update, here it is.
Our family is one tent away from a full-blown circus.
It's always a party when these guys are around.
"Insanity runs in my family. It practically gallops." — Cary Grant
My family doesn't go crazy; they are crazy. They go normal from time to time.
Families are a little like fudge: mostly sweet, but with lots of nuts.
As far as anyone knows, we're a nice, normal family.
Home is wherever my crazies are.
I shook my family tree and a bunch of nuts fell out.
"Being part of a family means smiling for photos." — Harry Morgan
Family: We may not have it all together, but together, we have it all.
This home is built on love and shenanigans.
"Family life is a bit like a runny peach pie… not perfect, but who's complaining?" — Robert Brault
In my family, crazy doesn't skip a generation.
The bigger the family, the bigger the shenanigans.
Our family motto? "Well, that escalated quickly."
Family: a little bit of loud and a whole lot of love.
"I know family comes first, but shouldn't that mean after breakfast." — Jeff Lindsay
I smile because you're my family. I laugh because there's nothing you can do about it.
Every family has that one crazy person in it. If you're missing one, I seem to have a few extras.
Family is my favorite F-word.
Judging by the chaos, you'd never guess this was a planned activity.
No family is perfect… but we're pretty damn close.
When nothing goes right, we go left!
We're messy AF, but we're us — and I wouldn't have it any other way.
Short Family Captions for Instagram
Keep the real ones close.
All you need is love.
Rooted and grounded in love.
This is us.
We got this.
I wouldn't have it any other way.
Through thick and thin.
I'll be there for you.
Home sweet home.
We're stuck together like glue.
There's no other place I'd rather be.
Family makes it all possible.
My loves.
Family is life.
Life is better when you're laughing.
Enjoy the little things.
Home is people. Not a place.
Blood is thicker than water.
Home is where the heart is.
The best things in life aren't things.
The wind beneath my wings.
Happiness is homemade.
Family comes first.
Family = chaos.
But first, family time.
Family Vacation Instagram Captions
I can't ever imagine going on a trip without my crew by my side.
We travel not to escape life, but for life not to escape us.
Selfies or vacation didn't happen.
The tans will fade, but the memories will last forever.
Our love for camping is in-tents.
Making the best memories along the way.
Tired feet, happy hearts.
Eating our way through [name of destination].
Mermaid kisses and starfish wishes.
We haven't been everywhere yet… but it's on our list.
High tides and good vibes.
"There's no vacation from being a parent." — Chevy Chase
You call it chaos. We call it family vacation.
Passports, planes, and my favorite people.
Collect moments, not things.
POV: You're on family vacation.
School's out; summer's in. Let the vacation begin!
OOOOFV: Out of Office on Family Vacay
Happiness is planning a vacation to somewhere new with this crew.
Family time-out (aka vacation).
What's on our bucket list? Everywhere.
Will travel for food.
Tan lines fade, but memories last forever.
Rome stole a pizza our heart.
#FamilySelfie or vacation didn't happen.
Song Lyric Family Instagram Captions
"We ain't picture-perfect, but we worth the picture still." — J. Cole, "Friends"
"These are the days we'll never forget." — Avicii, "The Days"
"I hear babies cry, I watch them grow, they'll learn much more than I'll ever know; and I think to myself, what a wonderful world." — Louis Armstrong, "What A Wonderful World"
"They say love is more precious than gold, can't be bought and it can't be sold; I got love enough to spare, that makes me a millionaire." — Chris Stapleton, "Millionaire"
"But we're the greatest, they'll hang us in the Louvre. Down the back, but who cares, still the Louvre." — Lorde, "The Louvre"
"Because you're mine, I walk the line." — Johnny Cash
"This is our house. This is our rules." — Miley Cyrus, "We Can't Stop"
"Always stay humble and kind." — Tim McGraw, "Humble and Kind"
"I really don't see another squad tryna cross us." — Drake, "No Tellin'"
"Celebrate, we will 'cause life is short but sweet for certain." — Dave Matthews Band, "Two Step"
"Sometimes I wish that I could freeze the picture and save it from the funny tricks of time slipping through my fingers." — ABBA, "Slipping Through My Fingers"
"It's a homies-only kind of mood." — Chloe x Halle, "Do It"
"No one is as lucky as us. We're not at the end, but we've already won." — Paramore, "Where the Lines Overlap"
"So much of me is made of what I learned from you." You'll be with me, like a handprint on my heart." — Wicked, "For Good"
"Find me where the wild things are." — Alessia Cara, "Wild Things"
"Slow down, you're doin' fine; you can't be everything you wanna be before your time." — Billy Joel, "Vienna"
"If God got us, then we gon' be alright." — Kendrick Lamar, "Alright"
"One of these days, the clocks will stop and time won't mean a thing." — Foo Fighters, "These Days"
"We're connected by the sun and all of the stars above." — Selena Gomez, "Body Heat"
"For you, I would cross the line. I would waste my time. I would lose my mind." — Taylor Swift, "Don't Blame Me"
"Where you invest your love, you invest your life." — Mumford and Sons, "Awake My Soul"
"Well, I've been afraid of changin', 'cause I've built my life around you; But time makes you bolder, even children get older, and I'm getting older too." — Fleetwood Mac, "Landslide"
"Don't worry where we end up. Ending-up's not real. The life we build, we never stop creating." — Jimmy Eat World, "Delivery"
"If I had a box just for wishes and dreams that had never come true, the box would be empty, except for the memory of how they were answered by you." — Jim Croce, "Time in a Bottle"
"Sounds of laughter, shades of life, are ringing through my open ears, inciting and inviting me. Limitless, undying love, which shines around me like a million suns. It calls me on and on, across the universe." — The Beatles, "Across the Universe"
This article was originally published on