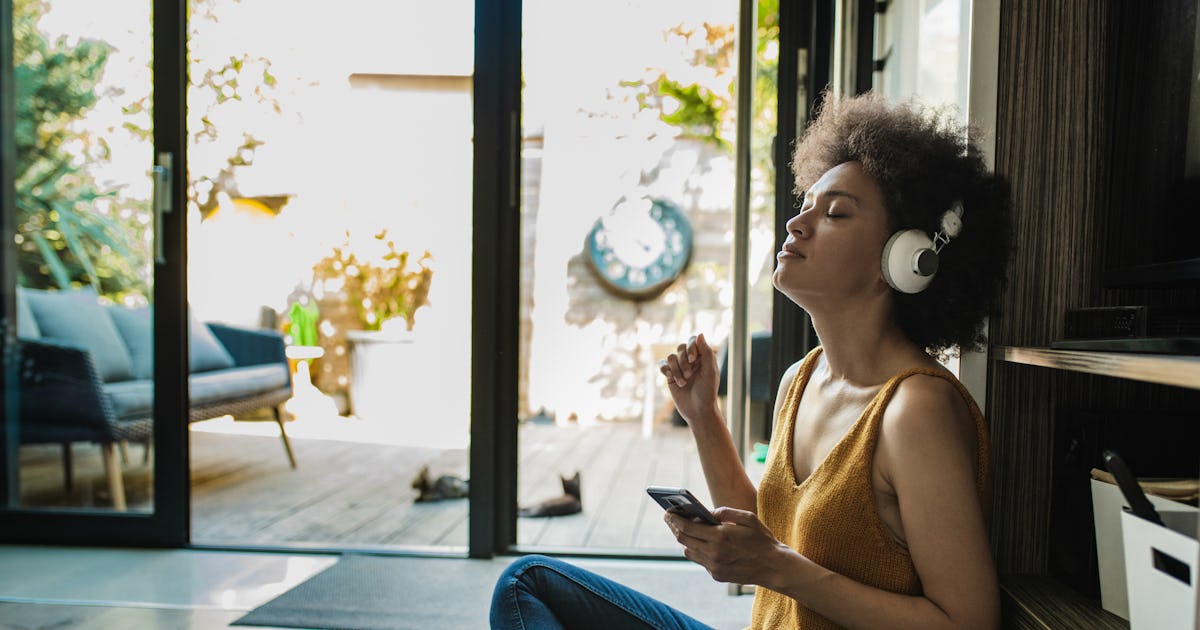 You did it. You gathered your confidence. You hired the lawyer. You're finally getting a divorce. What could make your day even better? Rolling through Starbucks while blasting some cathartic and relatable divorce songs. Even if the divorce is amicable, you're undoubtedly feeling some sense of relief right now. But you might also have just ditched a narcissist, and you know you're in for a long, stressful fight. Sometimes divorces are messy and can take a long time. (And sometimes you're not even the one who initiated the procedure.) A solid playlist of divorce songs can help you through.
"Music is the fabric of our society and allows us to communicate our experiences or reactions to the world around us," Laura Doyle, relationships coach and New York Times bestselling author, tells Scary Mommy. "Both joy and sadness are expressed through music, allowing us to process our feelings and, at times, eradicate negativity we may be holding onto … The healing process can start after a great cry and a relentless playlist. Sometimes, we just need to purge the experience so we can move forward, and understanding someone else went through the same thing helps us feel less alone."
That Playlist Can Help You Heal — It's Science
The benefits of listening to music during a breakup or divorce aren't just emotional; there are actual physiological benefits to a cathartic jam session.
"Under strenuous circumstances, such as when one is experiencing divorce, the body undergoes a complete physiological transformation," Manal Toppozada, MA, LPMT, MT-BC, executive director of Note-Able Music Therapy Services (NMTS), explains to Scary Mommy. "The nervous system unleashes cortisol (also known as the stress hormone), which can cause the body to experience muscle contractions, sleep deprivation, digestive issues, and can even pose an increased risk for heart attack. While stress does not go away overnight, research has proven that music can help lower cortisol levels. Similarly, music lights up the reward center of our brain to release dopamine (also known as the feel-good hormone), which helps our bodies relax."
When it comes to what you should listen to, hey, that's your call. What resonates with you? Are you in the mood for a good cry, or do you want to rage out a little? First and foremost, it's about finding what feels right to you. But if you need pointers, Toppozada has a few suggestions.
"We can use a range of music to help us process the emotions that we are experiencing in a constructive way," she shares. "Listening to slow rhythmic music (around 50- 80 beats per minute) can induce a meditative state. In a time where you need to release pent-up anger and aggression, throw on a song with a higher BPM to scream your heart out in the same way you would if you need a good cry."
Songs to Add to Your Divorce Playlist
"Easy On Me" — Adele
"Before You Go" — Lewis Capaldi
"Love of My Life" — Jennifer Lopez
"We Are Never Ever Getting Back Together" — Taylor Swift
"Make You Say" — Zedd, Maren Morris, and BEAUZ
"Abcdefu (nicer)" — GAYLE
"Roses" — Outkast
"So What" — Pink
"Lose You to Love Me" — Selena Gomez
"Since U Been Gone" — Kelly Clarkson
"I'm Still Standing" — Elton John
"Honest" — Kyndal Inskeep & Song House
"You Oughta Know" — Alanis Morissette
"Irreplaceable" — Beyonce
"Stay Together For The Kids" — Blink 182
"Somebody That I Used To Know" — Gotye
"Enough" — Charlieonafriday
"Divorce Separation Blues" — The Avett Brothers
Even More Divorce Songs
"Exile" — Taylor Swift featuring Bon Iver
"Silver Lining" — Rilo Kiley
"Everybody Hurts" — R.E.M.
"Miss You" — Oliver Tree, Robin Schulz
"Highway 20 Ride" — Zac Brown Band
"Because Of You" — Kelly Clarkson
"Bitter" — FLETCHER, Kito
"Better in Time" — Leona Lewis
"Don't Come Back" — Tate McRae
"Starting Over Again" — Dolly Pardon
"Bam Bam" — Camila Cabello featuring Ed Sheeran
"Every Other Weekend" — Reba McEntire
"Divorce Song" — Liz Phair
"This Is How I Learn To Say No" — EMELINE
"You Can Feel Bad" — Patty Loveless
"Better Than Me" — Camino
"Slow Dancing in a Burning Room" — John Mayer
"Rated 'X'" — Loretta Lynn
"She Got The Goldmine (I Got The Shaft)" — Jerry Reed
"Whose Bed Have Your Boots Been Under?" — Shania Twain
"D-I-V-O-R-C-E" — Tammy Wynette
"I Will Survive" — Gloria Gaynor
"End Of The Road" — Boyz II Men
"Stay" — Abraham Alexander
"Snuff" — Slipknot
"You Were Mine" — The Chicks
"Goin' Through The Big D" — Mark Chesnutt
"Good 4 u" — Olivia Rodrigo
"Separate Ways (Worlds Apart)" — Journey
"Nothing Lasts Forever" — J. Cole
"Got My Name Changed Back" — Pistol Annies
"Free Bird" — Lynyrd Skynyrd
"Give It Away" — George Strait
"Better In Time" — Leona Lewis
"Take a Bow" — Rihanna
"Don't Speak" — No Doubt
"Family Portrait" — Pink
"Truth Hurts" — Lizzo
"Gives You Hell" — The All-American Rejects
"These Boots Are Made For Walkin'" — Nancy Sinatra
"Nothin' Compares 2 U" — Sinead O'Connor
"Ramblin' Man" — Allman Brothers
"Tangled Up In Blue" — Bob Dylan
"You're Somebody Else" — Flora Cash
"thank u, next" — Ariana Grande
"I Can't Make You Love Me" — Bonnie Raitt
"You're No Good" — Linda Ronstadt
"Gonna Get Over You" — Sara Bareilles
"It's Too Late" — Carole King
"Wide Awake" — Katy Perry
"I Hope You Miss Me" — Joseph Black
"Mama's Broken Heart" — Miranda Lambert
"Against All Odds (Take a Look at Me Now)" — Phil Collins
"A Little Bit Stronger" — Sara Evans
"You Can Go Your Own Way" — Fleetwood Mac
"Black Roses" — Clare Bowen
"Really Don't Care" — Demi Lovato, Cher Lloyd
You're Not Alone
Here's the thing about divorce: It can feel very isolating. You may have lost friends and family during the split. You might be divorcing the person you still consider your best friend. This sh*t is hard. Which is why, says Toppozada, "Music should always be a tool in our coping toolboxes, as there are times when words can't express the pain one is feeling." No matter how you're feeling about your divorce, there's a song (or 75) out there for you.