PARENTING TIPS
A Man Shared How Happy He Was To Get Flowers From A Date And It Is So Wholesome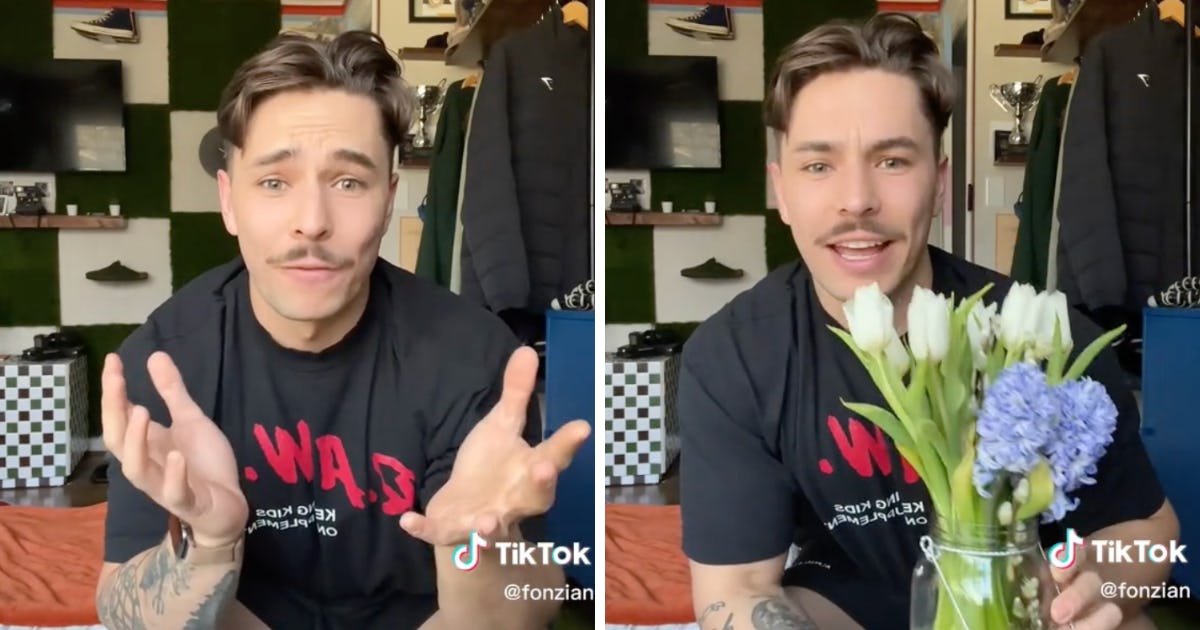 Flowers are a stereotypical gift to give to women — and many people make a pretty general assumption that women love to receive a bouquet on special occasions. But men don't often get gifted blooms, and it's worth asking ourselves why.
Over on TikTok, fitness enthusiast and influencer Ian Fonz (@fonzian) shared a short video that quickly went viral for showing just how much a man can appreciate a few stems and petals.
The 22-year-old squats in front of the camera and shares how excited he is about how his first date in a while went.
"I went on my first day in four years this weekend," he begins. "And the craziest thing happened. I got flowers. And not just any crappy flowers: they're in a bouquet, in a mason jar. I was literally speechless. Like, what do I say? This is my first time getting flowers. Like, I don't even know."
He pulls the flowers in question from a nearby shelf, and they're white and purple, in a sweet jar. He looks at them and smells them appreciatively. "Is this what it feels like to get treated right?" he asks. "I'm not even a flowers guy, but… I might be now."
The video, which has racked up almost a million views and 1,500 comments in two days, was not met with any sort of the toxic masculinity that you might be expecting. In fact, the comments were filled with other dudes, many of them also gym rats, who shared their joy and jealousy over the gift.
It's the most wholesome comments section perhaps ever on the internet.
"Bro is so lucky ( I want one )," one man wrote about the bouquet.
"I'd cry bruh," another said.
One guy, who goes by "Hunter the Dude" shared, "My girl got me flowers on Valentine's Day and I cried. Ladies get ya man's flowers it'll mean more than ya think it does."
"I didn't even know that was possible," another guy lamented.
"Bro how does it feel to live my dream," another asked.
"Every guy turns into flowers guy after receivin them," another added.
The women in the comments seemed all about getting the men in their lives blossoms — it's just that many of them didn't know.
"I want to buy flowers for every guy in the comments its making me so sad," one wrote.
"Most men don't get bought flowers until their funeral," another said.
"I got my boy flowers once, he still talks about it to this day (girls if he's the one, get HIM flowers)," one woman wrote.
"my dad said he had never received flowers so everytime i see people on the side of the road selling them i buy him some," another wrote.
It's not the first time TikTok has discussed the fact that most men have never been gifted flowers.
In one video, a man goes around giving men bouquets and recording their reactions after finding out that 90% of men only get flowers at their funeral.
In another video, a producer gives roses to Black men, and their reactions are touching.
"I never gotten flowers from nobody, for no reason," one man says. "I done got two degree, had two graduations. I've been through military graduations, all kind of shit. I've never been given flowers by nobody. This is crazy."
The kids might be all right — when everyone can talk so openly about loving beautiful things in nature and appreciating feminine things.