PARENTING TIPS
A Mom Wonders Is Only Asking For Diapers At Her Baby Shower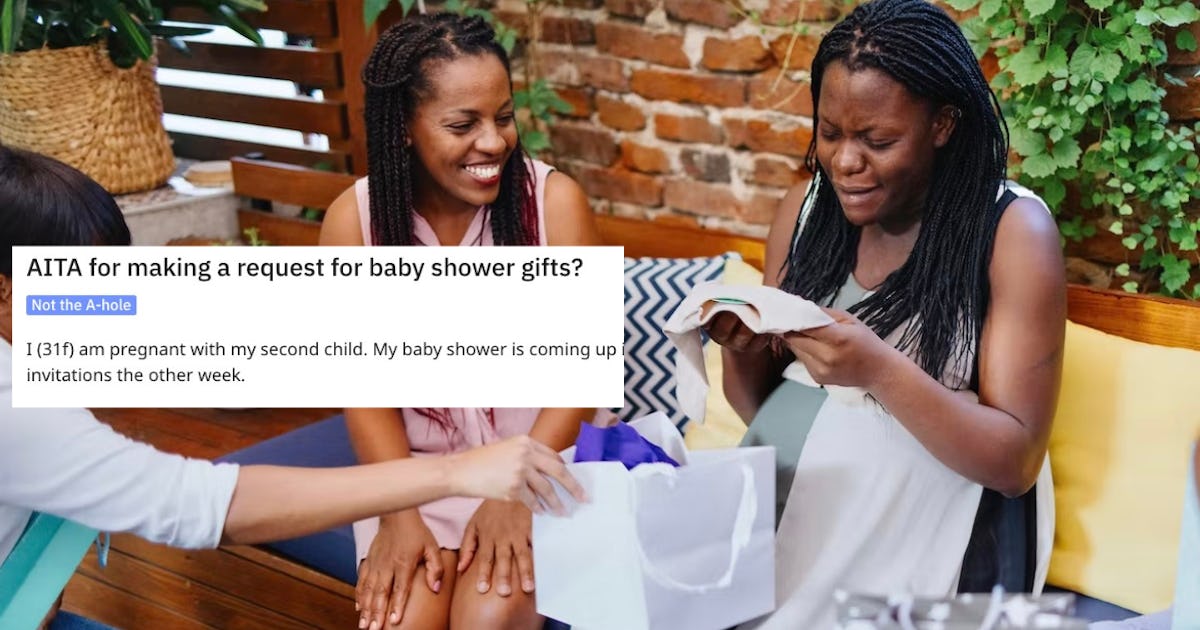 A baby shower is a great opportunity for a new mom to get "showered" with love (and gifts!) before a new baby arrives. Babies need a lot of stuff. From pacifiers to burp cloths to swings and car seats, preparing for a baby can have parents spending thousands of dollars to make sure they're properly equipped for their new bundle of joy, and it's a great think that friends and family pitch in.
So, what happens when you get pregnant a second or a third time? You may not need the swings and high chair this time around, but you might want some other essentials. How picky and how direct can you get?
One expectant mother was met with criticism from her friends and family when she requested no gifts at all for her second shower, save one thing. She only wanted the one thing that all parents cannot wait to have off their budget spreadsheet: diapers.
Reddit user u/One-Poetry-7005 turned to the "Am I The A—hole?" subreddit to gather opinions on if she was in the wrong.
"I (31f) am pregnant with my second child. My baby shower is coming up in April so I sent out invitations the other week," she began.
She then admits that she's picky when it comes to baby clothes. She doesn't want any as a gift, and, understandably, she doesn't expect those who don't know her very well to try and find something that would work with her very specific aesthetic.
She wrote on the invitations that she'd prefer everyone bring diapers as a gift instead of outfits or other baby items.
"I have a lot of items left from my previous child as well so it's not like I'm starving for clothes and toys. Last baby shower I got a lot of onesies I didn't like and ended up donating. I don't want my loved ones to waste money and I don't want to pretend I like a gift that I don't," she explained.
After the invitations went out, she was met with criticism from a couple of her relatives who thought she was ungrateful for being particular about what kinds of gifts she preferred for baby #2.
"A few cousins messaged me and said that I was being a bit stuck up and ungrateful by asking guests to only bring diapers. They say that they want to spoil the baby too. I said that the baby needs diapers. They're still upset and I'm going to be honest I don't really see why. AITA? Is this some rule I've never heard of?" she asked.
The first flood of replies questioned why this mom decided to have a get-together labeled as a "shower" if she didn't want any gifts.
"I still would like to visit with my family. A few relatives are coming from out of state. Baby showers aren't just about gifts," the OP rebutted.
And she's not wrong.
Baby "sprinkles" have become quite popular for pregnant people who already have kids especially if they're having a baby of a different gender. Known for being somewhat smaller than a full-blown "shower," a baby "sprinkle" is an opportunity for people to gather together to celebrate in a smaller, more intimate setting.
After users got over the idea of a second baby shower, many chimed in with words of support for the mom.
"If you have everything you need, diapers make 100% sense. I've been to parties like this where it's called a diaper party or a baby sprinkle. You have every reason to host a party to celebrate your upcoming child and it's never rude to ask people not to buy you something you don't need," one user noted.
One user offered up the suggestion of maybe just changing the name of the party itself and give it a rebrand focused on the gifts she's actually looking to receive.
"Call it a diaper party then. It's perfectly reasonable to want to celebrate the new baby but you said you had a shower with our first one and on top of it, you didn't like some of the gifts," they wrote.
"My friends had a 'diaper party' and we all showed up with diapers. Or make a registry with stuff you like and send everyone the link. It seems strange (to me anyway) that your family would say you are stuck up and ungrateful… it's your second kid, you need things like the first time."
Others pointed out that there is no reason for there to such rigid guidelines when it comes to baby showers. Seriously, who made the "rules" anyway? At the end of the day, shouldn't the preferences of the party be left up to the person who is being celebrated?
"It's whatever the mother carrying a human in her uterus wants it to be, in my opinion," one user noted.
Amen to that! Diapers for all!