PARENTING TIPS
Chelsea Handler's "Day In Life Of A Childless Woman" Video Has Gone Viral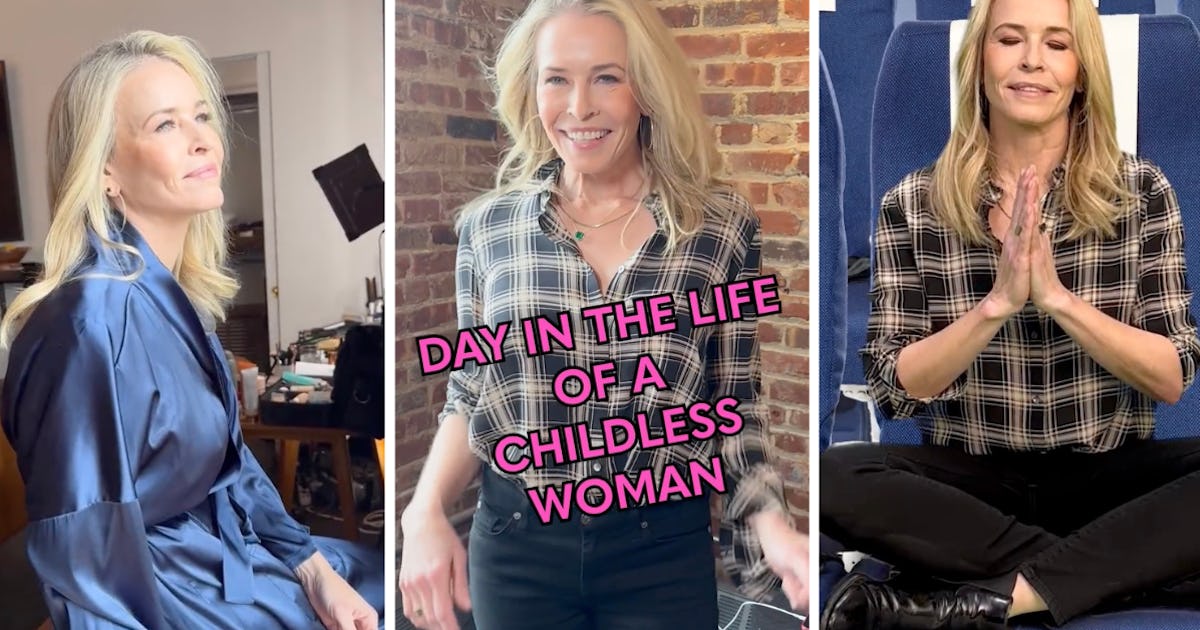 Comedian Chelsea Handler is child-free by choice, and once again, she's having to clap back at those who are critical of her decision not to be a mom because how dare she!
The 47-year-old comedian was the special guest host for The Daily Show on Comedy Central following Trevor Noah's recent exit. The New York Times best selling author shared a hilarious parody "mom vlog" type video entitled "A Day in the Life of a Childless Woman."
In the clip, Handler satirizes those ever-popular "day in the life of a [insert type of mom here]" TikTok videos that you've been seeing all over your "For You" page.
You know the ones, right? A mom of five works out, starts a load of laundry, meditates and gets ready for the day all before her kids wake up. She also makes you want to buy everything single item in her 12-step skincare routine. I know this because, I, too, have gone broke shopping at Sephora due to these mom vlogs.
Handler's video, which you can watch here via Twitter, opens with the former talk show host saying, "I wake up at 6 a.m. I remember that I have no kids to take to school. So I take an edible, masturbate, and go back to sleep. I wake up at 12:30 p.m., and get ready for a busy day of doing whatever the f—k I feel like."
She goes on to brag about wearing heels, since she doesn't have to chase after any kids. Oh, she also goes on a trip to Paris to grab a quick snack before hopping over to Asia to do a little hiking on Mount Everest. For the grand finale, she travels back in time and kills Hitler.
"It's amazing what you can do when you have this much free time," Handler says in voiceover dripping with sarcasm. The comedic video, which is, of course, a satirical play on just how happy Handler is with her choice to not have children — a choice that drives some people (cough conservative men cough) crazy.
Because they cannot help themselves, conservative talking heads like Tucker Carlson and Ben Shapiro had to work so hard to make sure their heads didn't explode over the idea of a woman enjoying living a child-free life.
Shapiro remarked with much gusto that Handler looks "miserable."
Carlson described Handler as an "aging, deeply unlikeable woman who never had kids" on his show. His own deluded thoughts weren't enough to fill the segment dedicated to Handler living rent-free in his head that he brought in right-wing radio host Jesse Kelly.
Kelly went on to say that "feminists like" Handler have been "lied to by their society forever that you can be a girl boss and you can do anything a man can do—which everyone who's ever seen a woman back up a vehicle knows that's not true."
Kelly also said some abhorrent remarks about Handler's reproductive system that I won't even bother repeating.
Nevertheless, the irony of these angry men ranting and throwing tantrums like children about one women's decision to not have kids is not lost on me.
It's also not lost on Handler, either, who fired back at Tucker and Friends with a response video posted to her Twitter account.
"Why would I even need my own children when I get to hear these crybabies all the time? You guys seem so triggered by me," Handler pointed out.
"I mean, my goodness, Tucker, I think it is time for you to ask yourself a serious question," she continued. "Are you really upset about how much freedom I have? Or are you upset that you haven't been able to take it away from me yet?"
A scary question indeed.