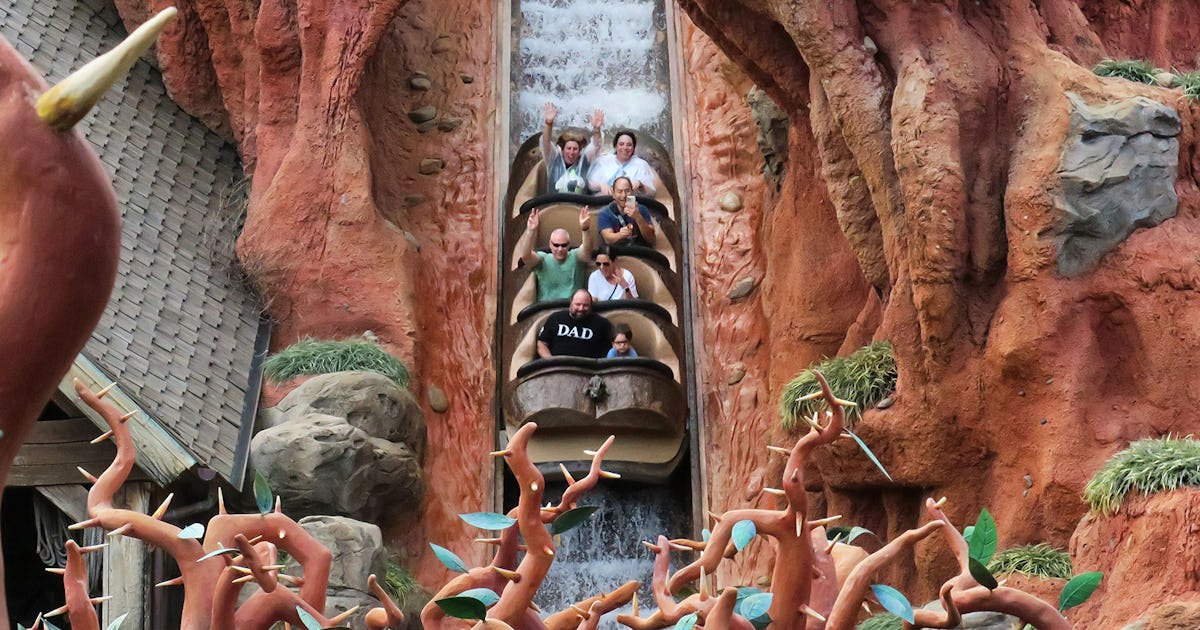 On Sunday, Jan. 22, Disney fans had their last chance to ride Splash Mountain at Disney World before the classic log flume ride shut down for good. The move comes just after Disney executives announced lower ticket prices to the parks.
The classic Disney ride has a controversial history, given its association with the 1946 Disney film Song of the South. The animated/live-action feature is set on a Georgia plantation following the Civil War and portrays what the NAACP called an "idyllic master-slave relationship which is a distortion of the facts." The animatronic critters of the Briar Patch on the ride sing songs in the film, which is one of the few films absent from Disney+'s extensive streaming collection.
Like the film, the ride is "steeped in extremely problematic and stereotypical racist tropes," per a Change.org petition with over 21,000 signatures asking for the removal of the ride.
Fans lined up for upwards of 220 minutes — over three hours — to get one last go on the classic ride, but many seemed to understand why Splash Mountain had to close. The ride is set to be transformed into Tiana's Bayou Adventure, which features Disney's first Black Princess, Tiana, from The Princess and the Frog.
"Tiana is a modern, courageous, and empowered woman, who pursues her dreams and never loses sight of what's really important. It's a great story with a strong lead character, set against the backdrop of New Orleans and the Louisiana bayou," Disneyland public relations director Michael Ramirez wrote when the Splash Mountain overhaul was first announced.
According to a Disney Parks blog post, the story of the ride begins "after the final kiss as Naveen and Louis join Tiana on her latest adventure, hosting a one-of-a-kind Mardi Gras celebration where everyone is welcome." The ride will also feature original music and introduce some new characters, too as Tiana leads the way.
Splash Mountain first opened at California's Disneyland in 1989, with Disney World's opening in 1992. As of now, the attraction is still open at the California theme park.
Disney Parks first announced its plans to change the log flume ride in June 2020. Both locations are set to reopen as Tiana's Bayou Adventure sometime in late 2024. There do not seem to be plans to close or renovate the Splash Mountain in Tokyo Disneyland.