PARENTING TIPS
Jason & Kylie Kelce Explain The Details Of The Viral Bagel Eating Video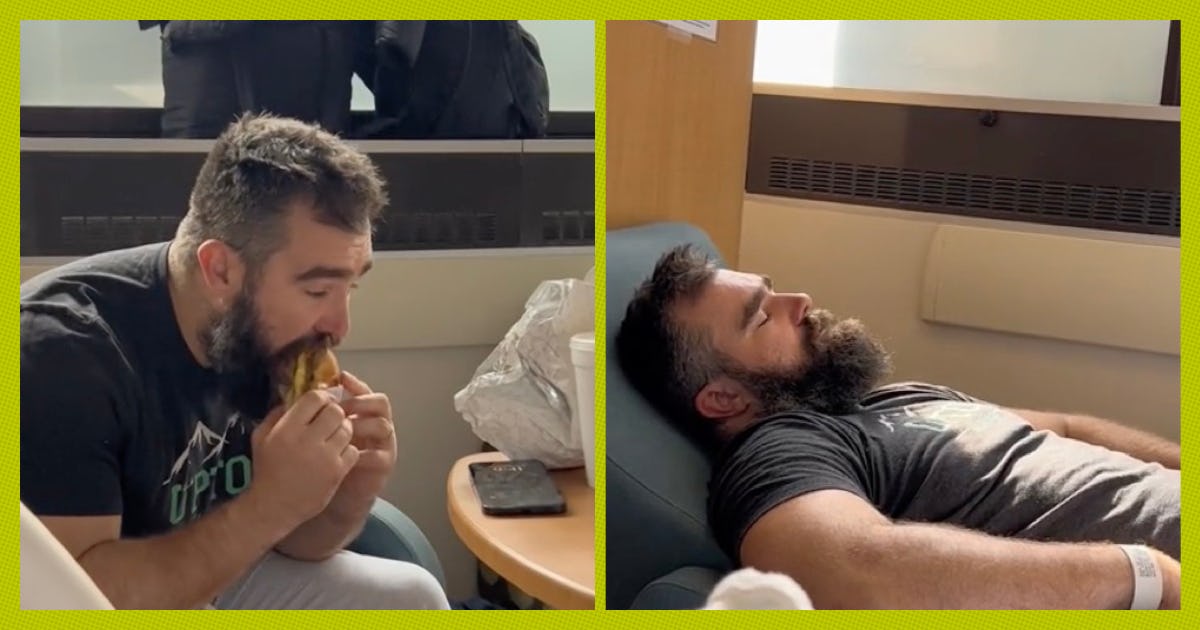 There are countless stories of men making the birth of a new baby about themselves in some way. From husbands who complain about how small the guest hospital bed is to the ones that pass out from shock and end up grabbing the attention of nurse staff. Men are just gonna men!
NFL player Jason Kelce went viral a few months back when his wife, Kylie, filmed him eating, sleeping, and generally having a relaxing vaycay while she was in labor with their third child.
The video was obviously in jest, with viewers not seeing every time that Kelce was being a supportive husband, got a lot of the internet riled up. Several users blasted Kelce for his lack of attention to his wife.
Now, months after giving birth, Kylie and Jason are both speaking on the viral moment, noting that they choose to focus on the good.
"We're all about positive energy. I think I'm used to people criticizing me, so I don't respond that much. Kylie gets a little bit more defensive, especially when people come after my fathering skills," the Philadelphia Eagles center told People.
Kelce, shares daughters Bennett Llewellyn, 6 months, Elliotte, 2, and Wyatt, 3, with Kylie.
"We're just trying to have fun. Online, there's a way to interact like never before because of social media and all these forms of fan engagement. We like to have fun with it."
"We would rather make light of the situation," Kylie added. "The same way that people thought that the TikTok of Jason during labor was funny. It's just really poking fun at the situation."
"Did I think he should be standing by my bedside, holding my hands and staring at me the whole time? Absolutely not," she continued.
She continued, "If you could hear the audio on the bagel clip when he's trying to take a really big bite, you can hear me saying, 'Tell me about it. How is it?' Because I was living vicariously through him trying all the bagels."
"We find better energy in the idea of poking fun at it than taking it seriously and getting legitimately defensive," she concludes.
"And it could be worse, she could kill me," Jason joked.
Now that they're a family of three, Kylie hopes that Jason can spend more time at home with their growing family. However, his busy NFL schedule makes being a present dad a bit of a challenge.
In a scene from Kelce — the feature-length Prime Video documentary that follows 35-year-old Kelce through the 2022-2023 season — Kylie shows that the injuries the NFL star sustains on the field impact his life at home as well.
"I don't think people realize the beating you're taking then impacts the way you interact with your family," she says in a confessional.
"He's been telling me for years that he was going to retire and now we are expecting our third daughter," she adds.
"I always tell people that no matter what happens with football, how it ends, I would like him to retire when he's still able to get down on the floor and play with our kids comfortably."
Despite Kylie's worries, Jason does his best to make time for his kids.
In an adorable video posted to Instagram, he was spotted playing with his daughters on the field after training camp.
"@jason.kelce always stays late after practice to play with his daughters 💚," they captioned the video.