PARENTING TIPS
'Real Housewives' Heather Dubrow Speaks Out For 12-Year-Old Trans Son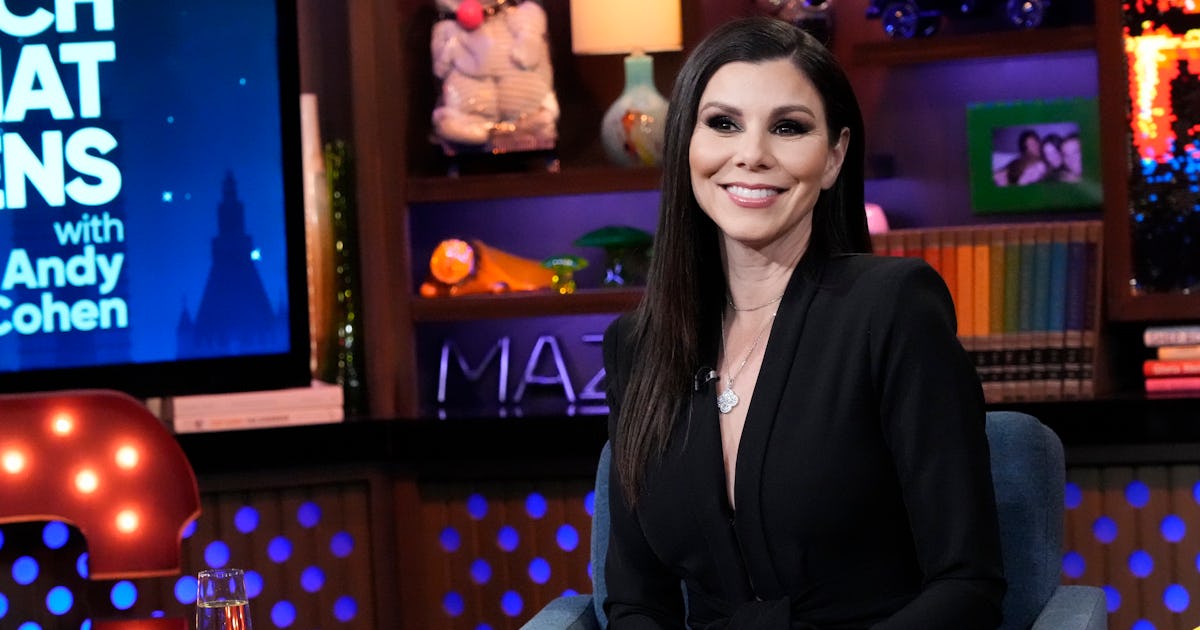 Real Housewives of Orange County star Heather Dubrow came under some fire when she posted a tribute to her son, Ace, for International Son's Day. The reality star, 54, marked the holiday by sharing a picture of a beach with "Ace" written in the sand.
"We love you, our youngest son, Ace ❤️," she wrote in the photo's caption.
"Our job as parents is to give our kids a safe and supportive environment so they can grow up as healthy, happy, confident, independent humans. Since Ace is a 12 year old child, with a long life ahead of him – we will let him tell his own story someday if he chooses to do so," she continued.
"All we can say is Ace, we love you so much and we are proud to be your parents. Your brother and sisters love and support you too ❤️."
Dubrow is also mom to twins Nick and Max, 19, and Kat, 16, with husband Terry Dubrow, 64.
After posting the touching tribute to Ace, Dubrow came under fire from some accusing her of using her trans child for clout or attention — and not acting in his best interest.
Speaking opening on her Let's Talk with Heather Dubrow podcast, the mother of four clapped back at the negativity.
"I need to clarify some things. With all the support, of course, there's always going to be hate. You're going to have haters. You're going to have people that don't understand. There were two main comments that I just want to address and one was why now?" the actor began.
Dubrow is referring to several commenters criticizing her for affirming her child's identity at the age of 12. Dubrow said she will do whatever it takes to keep her children safe, including letting them be whomever they wish to be.
"And I get that he's 12 years old. Why now?" she asked. "As a mom, you look at your kids and all you want to do is protect them. You want to put helmets on them. You want to wrap them in bubble wrap and just pray that nothing ever hurts them physically or emotionally."
"And of course, that's what I want to do with my kids," she added. "But the truth of our lives is that we have been in the public eye for many years, and my son has been in the public eye since he was nine months old."
"It's really just all about protecting my kids. We are not trying to leverage our child for content, and I'm just going to leave that there," she said.
She also wants to make sure that Ace has the opportunity to tell his own story when he's ready, but in the meantime, Dubrow took the opportunity to get ahead of "someone else" making a statement on her child.
"There are other people who want to tell your children's stories' for them," Dubrow said. "Something had to be said by us before someone else made a statement."
She then went on to say that now that she has four children who all have different identities and sexualities (In February 2022, Dubrow shared that, one year after her daughter Max came out as bisexual, her second daughter Kat came out as lesbian.), it is her mission in life to protect the rights and freedoms of not just her kids but all LGBTQIA+ youth.
"Being a parent, as so many of you know, is the hardest job on the planet," Dubrow added.
"But being a mother to me is my most important job ever. I take my kids and all your kids to my heart, always every day. And I know that I was given these four kids for a reason. And not only will I protect them and fight for their safety and their rights and their freedom, but I promise I'm going to help you protect yours too."
2023 has been a record-breaking year for anti-LGBTQ bills in the U.S., with lawmakers introducing more anti-LGBTQ bills this year than in the past five years combined.
The current legislative session has seen more than 350 anti-trans bills introduced in 36 states, according to new data released by Trans Legislation Tracker. These bills include but are not limited to blocking healthcare and limiting access to bathrooms or the ability to join sports teams for trans kids.
"Year after year, anti-trans legislation has pushed the boundaries of demonizing trans people and limiting their visibility and agency," Andrew Bales, the creator of Trans Legislation Tracker, said in a statement to VICE.
"The national legislation emerging this year should make it clear that this is not a limited attack—it's a hateful vision for our country's future."
Now more than ever, trans youth need affirming, devoted parents of LGBTQIA+ youth like Dubrow who are standing up and defending the rights for their kids to be whomever they choose to be.