PARENTING TIPS
Single Mom's Viral TikTok Has Every Mom Wanting To Join A Mommune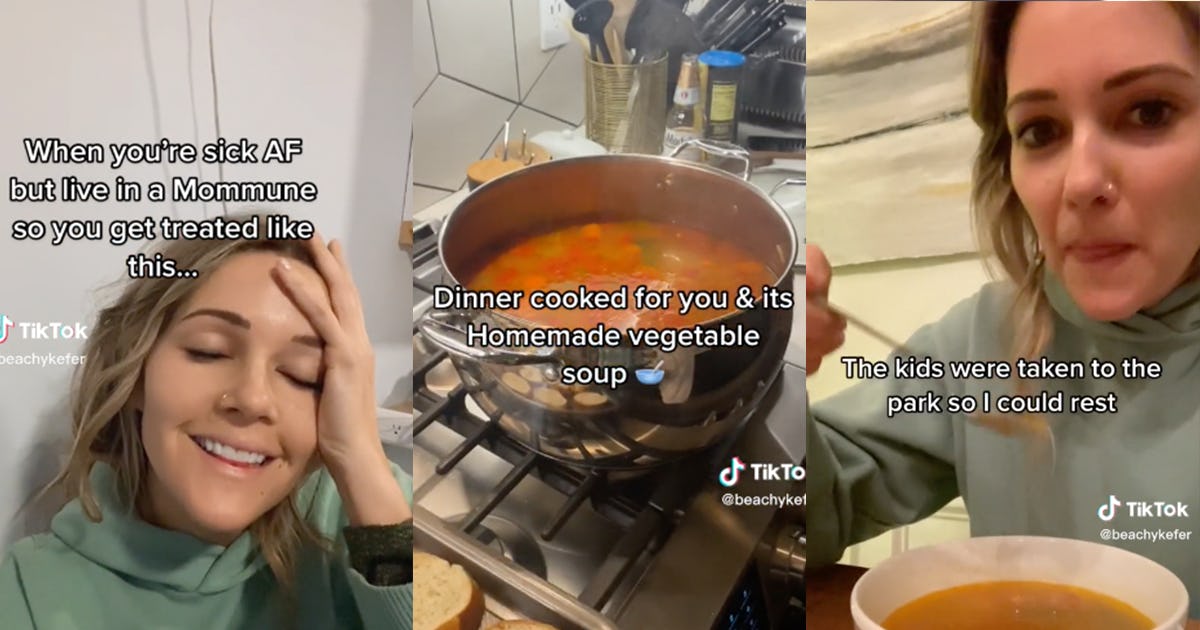 Being a mom is hard work, period. Being a single mom? That's an entirely different (and uniquely difficult) game. Some single moms, like TikToker Kristin, has taken a new approach to being a single parent and has joined a "mommune," or a mom commune, where single moms help each other out.
Recently, Kristin, who goes by the handle @beachykefer, shared that she was sick — a common woe for families everywhere during the colder winter season, but one that can be especially tough as a single mama. Luckily, Kristin had her mommune to lean on for support when she wasn't feeling well.
"When you're sick af but live in a Mommune so you get treated like this…" Kirstin wrote over a video showing off a text from a fellow mom that read, "your cookies are done," as she had made Kristin's favorite cookies from scratch when she was sick.
She also got some homemade soup, and another mom offered to take her kids to the park so she could get some much-needed rest. "This is your sign to move into a Mommune," she captioned the final shot of the video of herself enjoying one of the homemade cookies.
The idea of a mommune really appealed to a lot of others in the comments. "Do I have to leave my husband at the firehouse or something?" joked one of how to join such a supportive mommune.
"This is the village we're all supposed to have," added another.
"THERE'S A NAME FOR THE DREAM???" exclaimed another, clearly amazed by the simple but powerful acts of community Kristin experienced with her mommune.
Kristin went on to explain how exactly she became a part of her mommune in a few followup videos. She and her then-husband (along with their daughter) were leading a nomadic van life with another couple when Kristin's husband and the wife from the other couple had an affair.
Kristin decided to move in with some friends, her "chosen family," after the affair and lived with them for over a year. Another friend, who went through a similar cheating experience with her own husband, also moved in with her kids. And for everyone involved, it works.
"It is the most amazing thing ever," Kristin explained. "I 100% recommend like, starting your own mommune, but it really does have to be [with] people who align with you, your values, your beliefs, and how you want to raise your children, and you trust them. I think that's the most important thing to me," she explained of finding her chosen family to create a mommune.
It truly does take a village to raise a child, and whether it is in a traditional nuclear family, or with a chosen family like Kristin's mommune, support and open communication seem to be the key to success.