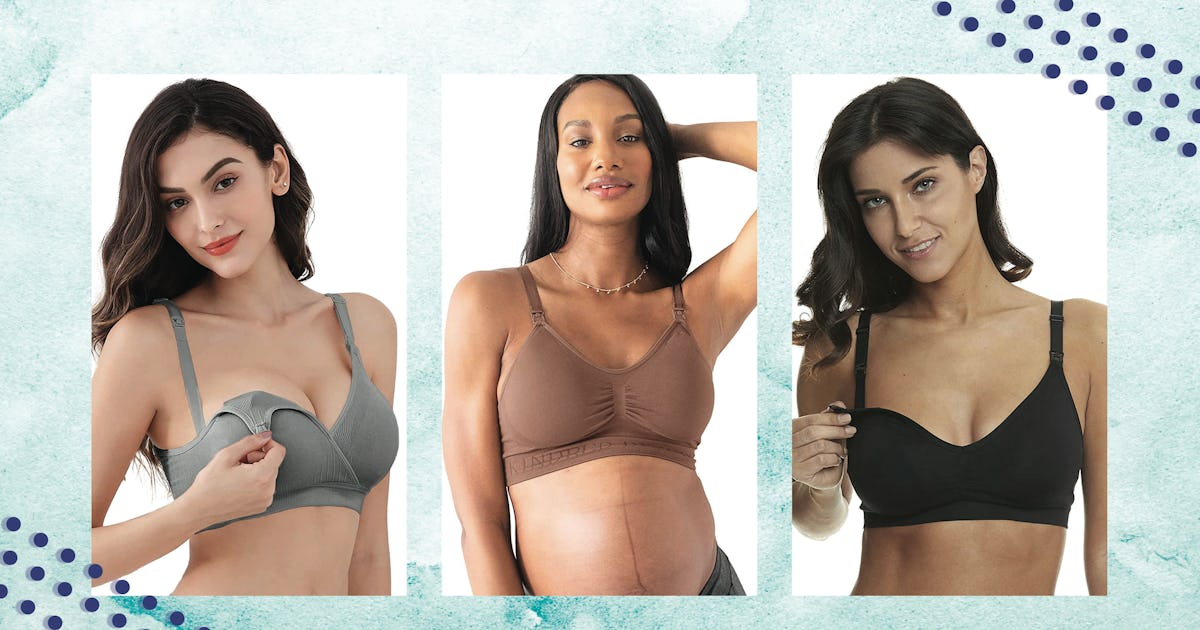 It very often starts with sore boobs. A not-so-subtle message that your body is changing—and your boobs may never be the same. In fact, if you're pregnant right now, your boobs are likely changing in size (and soon, function) right this moment and the last thing you need is a jail cell of a bra. Allow yourself the freedom of comfort as those babies balloon upward by ditching the underwire in favor of the best bras for pregnancy's first trimester — and beyond.
But, if you're wondering about the elephant in the room — how can a bra both be supportive and grow with you? — I tapped bra expert Jessica Foster at Kindred Bravely to get answers.
The Expert
Jessica Foster is a Customer Care Specialist at Kindred Bravely, a company on a mission to design clothes that make the motherhood journey easier. Foster is passionate about helping expecting moms feel comfortable and confident — especially when it comes to finding the right nursing bra.
When Should You Start Wearing A Pregnancy Bra?
If your current bra is more uncomfortable than it once was, you're not imagining things. "Breasts may become fuller with some people seeing an increase in cup size early on, though this is more common in later trimesters," says Foster, who also adds that many women experience breast soreness, tenderness, and sensitivity within the first trimester. So even though, technically, you could wear a normal bra while pregnant, any signs of change suggest it's the perfect time to start looking for a pregnancy bra.
How Should A Pregnancy Bra Initially Fit?
A bra that grows with you sounds too good to be true, but that's exactly the allure of a well-made pregnancy bra. Foster isn't unfamiliar with mamas-to-be seeking out comfortable, soft, and supportive bras that can accommodate multiple sizes (aka stretchy bras that can grow with them throughout pregnancy).
To find the right bra for the first trimester and beyond, Foster advises: "Your bra band should fit below the rib cage without being too tight. The band should feel snug without leaving marks — you should be able to fit two fingers under the band." Of course, you don't want to over-index either. "You don't want your bra fitting too loose (riding up in the back or able to fit more than two fingers under the band) as it will not provide sufficient support," adds Foster.
How Do I Know My Pregnancy Bra Size?
This will probably blow your mind (it certainly did mine) but Foster notes, "There is no industry standard for bra sizing, so your size in one brand can be completely different from your size in another brand." That's why many brands teach you how to measure your chest specifically to their sizing.
"At Kindred Bravely, we recommend measuring with a fabric tape measure while wearing a bra that fits you well," explains Foster. "Measure just under your bust where the chest band sits (snug, but not tight) and round up to the next even number. This is your band size. Measure around the fullest part of your chest (bust size). Subtract your band size from your bust size to find your cup size. Each inch of difference is one letter, so a 5-inch difference would be an E cup."
And if you're super-sensitive so it's still feeling snug? Foster suggests sizing up in the chest band, not the cup. "Your breasts should fill the cups but not spill out."
Finally, what about bra size after you pass the first trimester, and beyond that — once the baby is born? "It is not uncommon to need a new size later in pregnancy," Foster says. "We recommend re-measuring around 35 to 37 weeks for any bra you plan to wear postpartum."
With that in mind, we've collected the most-loved bras by mamas who experienced the same soreness and sensitivity you're likely feeling now and (take heart) lived to tell their tales.
In a hurry? Here are the top picks for the best bras for pregnancy's first trimester.
1. Expert's Choice: Kindred Bravely Simply Sublime Seamless Maternity Bra
2. A Value Pack Of Everyday Bras: HOFISH Seamless Maternity Bra (3-Pack)
3. The Best Sports Bra: BESTINA Seamless Yoga Bra