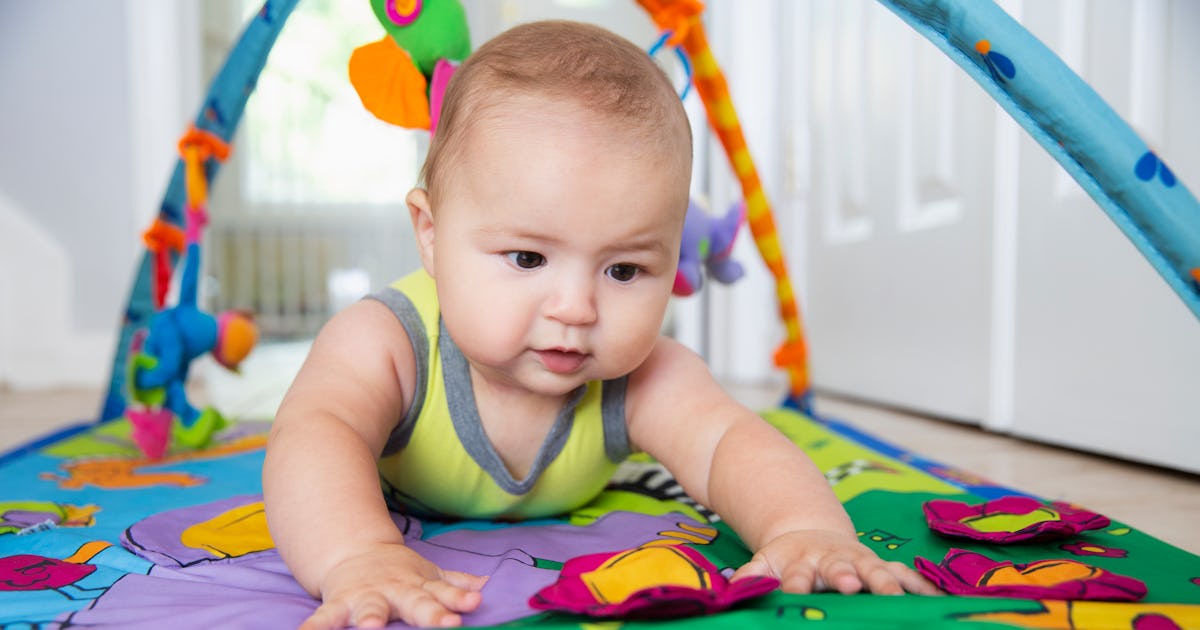 Did you know that it's almost never too early for babies to begin a tummy time routine? According to Dr. Laura Purdy, MD, babies can begin practicing tummy time "as soon as the umbilical cords fall off! Babies this young may not be awake much during the day but when they do have small windows of awake time, tummy time is great to start!" In fact, an early introduction to tummy time encourages gross motor skills right from the start — strengthening their muscles and building towards crucial developmental milestones. And the best toys for tummy time up the fun factor to help keep them engaged longer.
The Expert
Licensed in all 50 states, Dr. Laura Purdy, MD, is a board-certified family medicine physician and the Chief Medical Officer of OpenLoop Health. Dr. Purdy's in-depth digital health expertise comes from more than a decade providing and directing primary care for patients of all ages. She attended medical school at the Uniformed Services University of the Health Sciences.
How Long Should Tummy Time Be?
While a soft and safe surface like mommy's chest will likely be baby's favorite place to experience tummy time in those early months, the truth is many babies protest tummy time. And who can blame them? It's tiring work! That's why building up from short to longer sessions is key.
"[Infant tummy time] sessions won't be long, it may only be a minute or two! Your baby won't have as much strength in the early weeks as they will as they grow. By the time baby gets to be 3 months old, you may find that they have enough energy for up to one hour of tummy time per day!" explains Purdy. It should be noted, however, that that 1-hour goal is the total amount per day — you can certainly break up that hour into smaller intervals throughout the day if your baby responds better to shorter times on the mat.
How Do I Entertain My Baby During Tummy Time?
Longer tummy time sessions will ultimately prepare your baby for crawling and walking, so it's important to keep at it even if it's frustrating for your baby. If your baby seems to absolutely hate tummy time, an engaging toy could be just the motivation they need.
Water mats are a great option for babies 3 months and up, since the squishy play surfaces usually have vibrant, high-contrast designs that appeal to babies. Just make sure your baby has good head/neck control before introducing one for safety.
Mirrors are also a great way to motivate baby while on the mat since infants are drawn to faces (especially ones they can reach out and touch!).
While you're shopping, it's also helpful to keep in mind what your baby likes to play with off the mat. If he or she loves crinkle books, adding a mat with crinkly or textured elements could be the answer. Similarly, if they love music, choosing a toy with few songs or sounds will be right up their alley.
Shop The Best Toys For Tummy Time
In a hurry? Here are the top picks for the best toys for tummy time:
1. The Best Water Mat: Splashin'kids Inflatable Tummy Time Water Mat
2. The Best Tummy Time Mirror: Sassy Tummy Time Floor Mirror
3. The Best Light-Up Sound Bar: Baby Einstein Glow & Discover Light Bar Activity Station