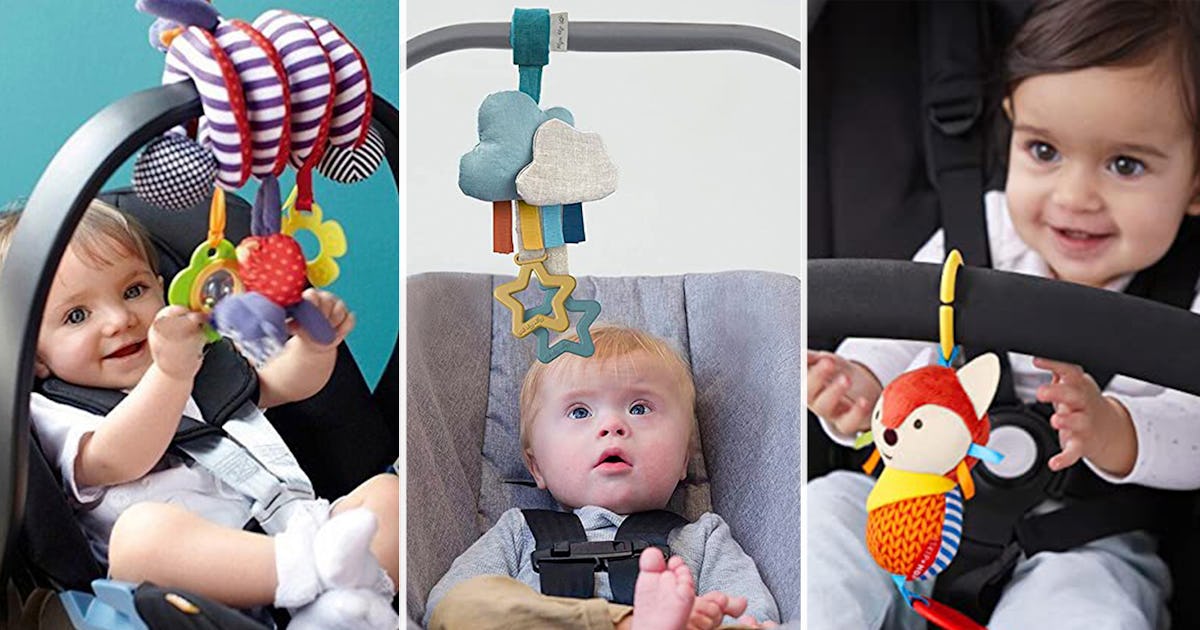 When you're on a walk with your baby, a stroller toy can save you from constantly having to bend down to provide the magical mama entertainment. Even though your baby is the cutest thing ever to exist and there's nothing sweeter than playing with them, sometimes you just need to run an errand, get somewhere, or do another loop around the park with that coffee in your stroller organizer. The best stroller toys keep baby busy so you can keep that stroller moving, and — this is key — they can attach to the stroller so you don't need to stop and pick up the toy every few steps. Yeah, been there.
Do You Need Toys For The Stroller?
Stroller toys generally consist of baby- or toddler-friendly toys that can be attached to a stroller within reach of a kiddo so they can play and entertain themselves. Most stroller toys also can attach to car seats, activity centers, or the headrest behind or in front of a car seat, depending on which way your little one is facing. You'll be grateful to have one — or a few — in rotation to calm your fussy babe just when you need it.
These toys are designed to entertain, but they often feature high-contrast patterns, bright colors, or interesting textures that really engage babies and encourage their development.
What To Consider When Shopping For The Best Stroller Toys
Stroller toys usually come with a mix of materials and textures, which can include mini mirrors, teething rings, embedded jingle bells, or crinkly paper. Most stroller toys aren't machine-washable; instead, you can spot clean them.
Keep reading for the best baby stroller toys and some of the best car seat toys, too, because a happy, entertained baby on either set of wheels is #goals.
In a hurry? Here are the top picks for the best stroller toys:
1. The Cult-Fave Stroller Toy: Skip Hop Bandana Buddies Stroller Toy
2. This Spiral Toy With Rave Reviews: Bigib BeeSpring Stroller Toy
3. This Adorable Stroller Arch With Universal Hooks: Taf Toys Koala Daydream Stroller Arch
Want some more car seat toy ideas for long (or short) car rides? Check out more of our top picks.