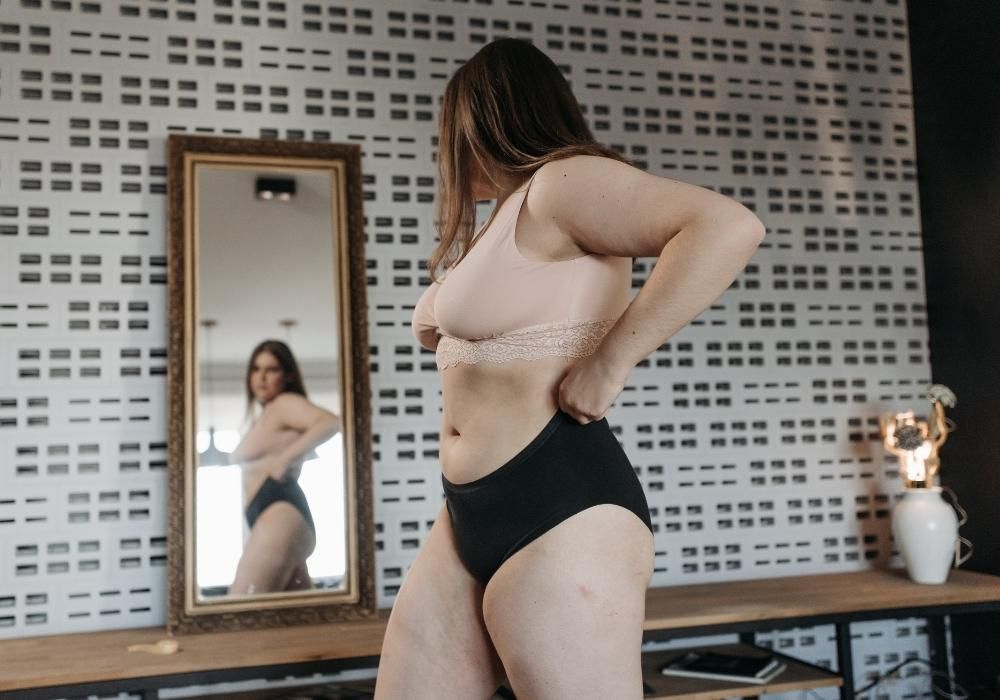 Nothing will take you back to the good ol' days of junior high quicker than having to sport a jumbo pad that looks and feels like a Boeing 747 stuck to the gusset of your underwear. After giving birth, you'll be surprised and delighted to learn that part of the postpartum recovery journey for many includes what feels like the longest period of your life (this is called lochia, btw) along with strict orders to lay off the tampons and menstrual cups.
There was a time when all this meant that mesh undies and disposable postpartum underwear would be your only options to avoid wreaking havoc on your intimates, but thanks to reusable menstrual underwear, those days are gone. Reusable undies can be worn for periods, postpartum bleeding, leaks, sweating and discharge, and this list includes some of the best ones out there.
Best reusable menstrual and postpartum underwear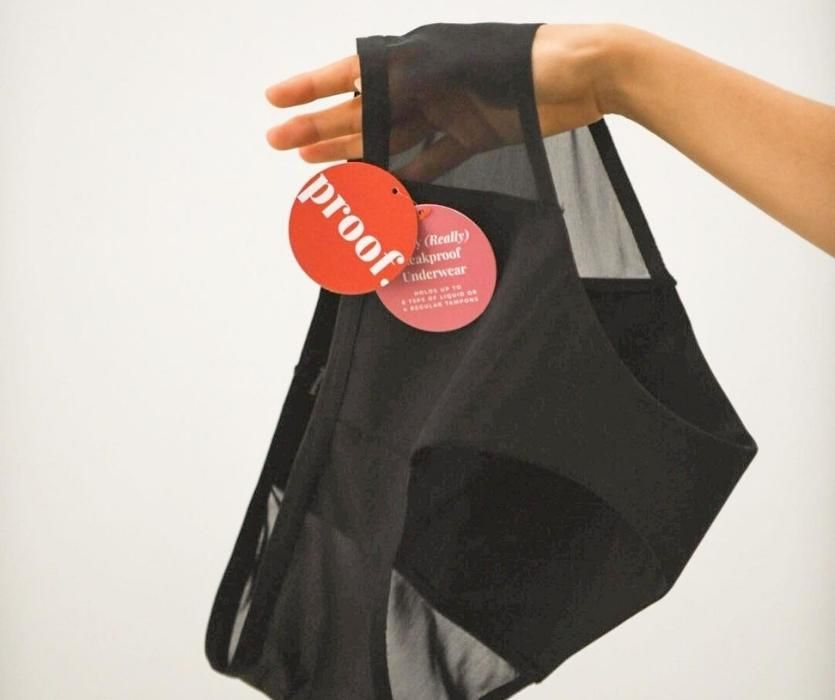 Best Overall: Proof
Proof undies are the master of all leaks. Whether you're dealing with the regular joys that come along with your period, bladder leaks, discharge, or any other surprises, Proof has your butt covered (with a 60 day guarantee, no less). They make shopping for your specific needs easy by sorting for leak type, and their categories include maternity and postpartum, as well as periods, sweat, workouts and more. Proof's maternity styles include everything from thongs to boy shorts and hold up to 3 regular tampons worth of fluid. Their postpartum panty selection comes in bikini and hipster styles that can hold up to 5 regular tampons worth of blood. You'll probably need more than one pair, so make a bundle of 3 to save 25% off your purchase. Shop here.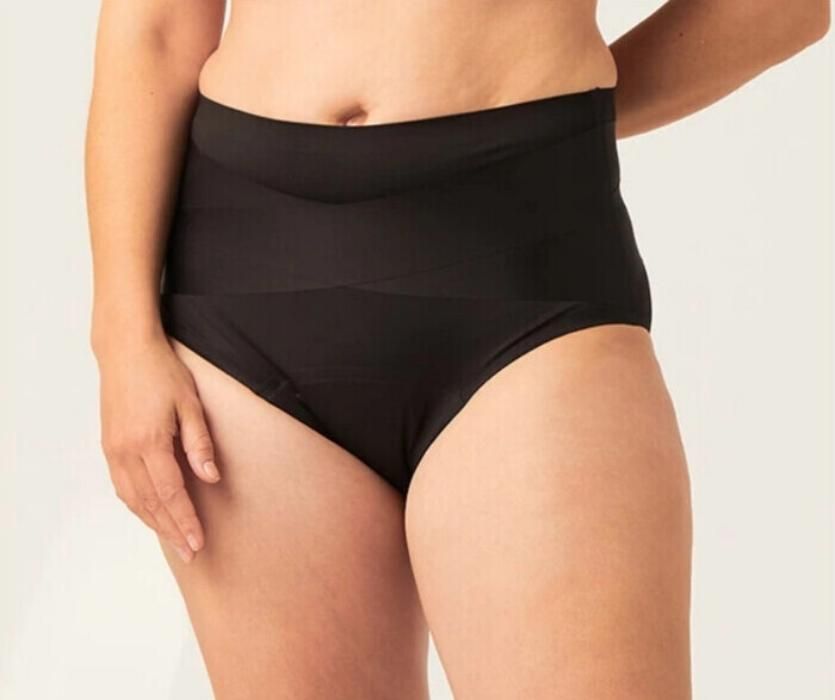 Modibodi's designated Maternity section has got the goods for briefs and bikini cut undies to accommodate your belly and body as it transitions through pregnancy and into the fourth trimester. Their Maternity Brief Maxi provides full coverage and can hold up to 10 tampons worth of fluid, making it perfect for postpartum bleeding and wearing overnight. The Postpartum Control Brief is great for lighter flow days and provides a little extra back and tummy support as your body changes after pregnancy. They've also got super cute boy shorts if you're looking for extra coverage and maximum leak protection. Best of all, new customers can try Modibodi risk-free for 60 days – so if you don't totally love them, you can fire 'em right back. Shop here.
The Just'nCase Undies by Confitex are a great option for everyday use for folks with incontinence issues, in addition to being the perfect skivvies to wear during your period. Their briefs come in full and midi coverage in a variety of materials including cotton and lace. If you're always stealthily checking yourself for leaks, you may wanna stock up on Just'nCase's extra absorbency styles that can hold up to 10 tampons worth of blood (that's 50 ml!) Shop here.
Best For C-Section Recovery: Knix and Thinx
Knix makes period underwear that can tackle whatever flow you need them to in sizes up to 3 XL. Their super leakproof styles can hold up to 8 tampons worth of blood, pee or sweat (not that you're peeing or sweating on your tampons, but you get the idea). The Nylon/Spandex blend makes the main body of the undies nice and stretchy, and the 4 layers in the gusset wick moisture, absorb fluids, and keep odor at bay. Knix also has a maternity line perfect for pregnancy and postpartum bodies. The CoreLove High Rise light compression underwear provide support both during pregnancy and the healing process after birth. New moms with c-section scars and stitches have said they're the best postpartum underwear to take care of leaks and minimize irritation on their incisions. Shop here.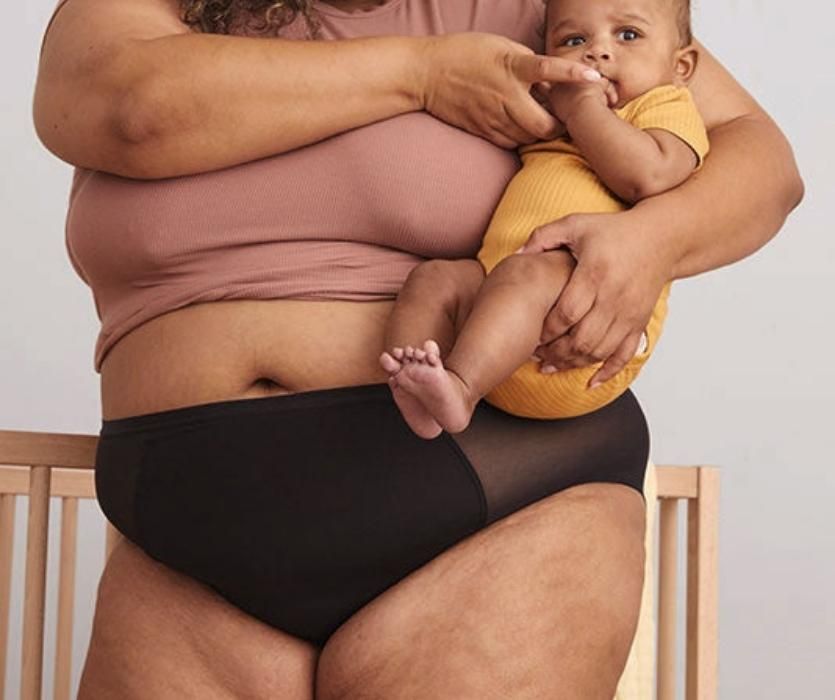 Thinx panties come in an abundance of styles, offering different levels of absorbency and protection. They've got 5 different styles that can hold 5 tampons worth of blood. If you're not sure what to order, Thinx has a Postpartum Set which comes with 5 pairs of undies in a pack – 2 pairs of Hiphuggers, 2 Super Hi Waist and 1 Super Hiphugger pair, which are popular for comfort on c-section incisions. Thinx also makes boxer-inspired sleep shorts with their highest level of absorbency to help you catch a few extra winks of sleep or (let's be honest) to wear around the house during the day. Grab a pair in sizes up to 4XL. Shop here.
Best For Everyday Wear: Dear Kate
Dear Kate makes reusable understuff for folks on the move. Their 100% fabric panties come in several styles, from hip huggers to thongs. They have lining for three degrees of coverage – the mini lining, which holds 1.5 tampons' worth of blood; the full lining, which absorbs 2 tampons' worth, and the thong lining, which holds 1 light tampons' worth. Fans of Dear Kate say the waistband fits comfortably in sizes from XS to 4 XL. Shop here.
What reusable menstrual and postpartum underwear purchases do you swear by?
Do you have a brand that made your pregnancy or postpartum experience a little easier? Drop 'em in the comments!
Related: DIY Postpartum Recovery Station