PARENTING TIPS
The Full Super Bowl Ad Of Alicia Silverstone Reprising Her 'Clueless' Role Just Dropped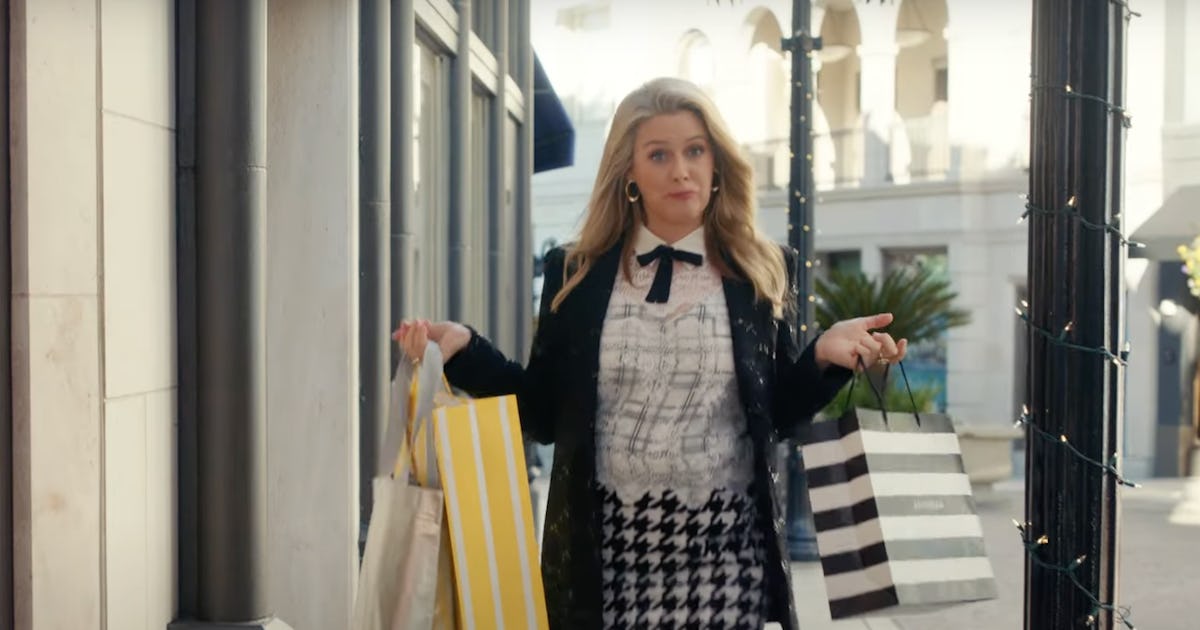 Millennials have been totally buggin' over the news that Alicia Silverstone is returning as her legendary character, Cher Horowitz, from the 90s' teen comedy — Clueless — for a new Super Bowl ad. And now you can watch the whole thing.
It's been almost thirty years since Silverstone, 46, made history as the well-meaning, wealthy ditz in the 1995 film. Now, she's reprising the beloved role for a new ad for Rakuten that's planned to air on Super Bowl Sunday, and was released on YouTube today.
In the ad, we return to the iconic scene near the beginning of the film where Cher must debate a topic — and this time, she's sharing the pros of using Rakuten to shop for clothes online at discounted prices.
Across the aisle she's joined by Elisa Donovan, forever known as Cher's rival Amber, who is dressed in the exact outfit she donned in the 90s. They spar a bit before the scene shifts to Cher in her bedroom, using her remote-control closet, followed by Cher shopping on Rodeo Drive. Finally, she's back in her Jeep (it's electric now!), getting into air-headed car accidents and not taking the blame, just like the old days.
The ad is filled with tons of references to the movies, lots of Clueless slang, and almost more nostalgia than any middle-aged person can possibly handle. It's lovely, and I won't spoil it for you.
The character of shopaholic Cher Horowitz seems like the perfect spokeswoman for the company, and super fans of the film might even recognize the song playing in the background as Silverstone struts to the head of the class — "Alright" by Supergrass, from the original Clueless soundtrack.
"I thought it would be really creative and fun and exciting and scary and all of that," Silverstone told Glamour about the decision to reprise the role. "And really, it was the reaction from all of my team members. They were so excited about the possibilities. I think that persuaded me as well. Any nerves I had about it were outweighed by how excited everybody else was.
"There almost isn't a day that goes by that I don't hear some comment about it," she continued. "So it became this thing that was untouchable to me, like, 'God, I would never do that again.' The idea of doing it was scary because, what if I messed it all up? What if it sucked? What if everybody was like, 'Oh, please, let's just remember it how it was. That's a lot better.' Hopefully that's not the case. When I did it, it felt really, really fun. So I'm so happy I did it. I'm so happy I got to have that experience. I loved being Cher for those days, and I kind of didn't want it to be over. I wanted it to keep going."
This is not the first time Silverstone has channeled her most memorable character. In November 2022, Silverstone reunited with her Clueless costar Stacy Dash, who played her BFF Dionne, to recreate one of their most iconic scenes. The two danced and laughed in a video posted to Silverstone's TikTok.
"Then & Now 👯‍♀️ #Clueless #AsIf," she captioned the post.
She also recreated an iconic scene from her hit movie with the help of her son, Bear Blu.
In her yellow plaid jacket, Silverstone struts forward to the tune of No Doubt's "Just a Girl" (another classic song from the movie) as Bear, 10 — who Silverstone shares with ex-husband Christopher Jarecki — comes into frame to put his arm around his mom's shoulder before she pushes him away.
She then mimics one of Cher's most memorable lines: "Ew, get off of me! Ugh, as if!" The pair then makes up and hugs as the clip comes to a close.
"Ugh! As if… I wouldn't join TikTok. 😉💛😘," Silverstone wrote alongside the video, adding the hashtags "#Clueless" and "#AsIf."
The new Super Bowl ad, "Not So Clueless" will air during the first quarter of the game on February 12.
This article was originally published on