PARENTING TIPS
This Game-Changing Cleanser Is The Ultimate Cleaning Hack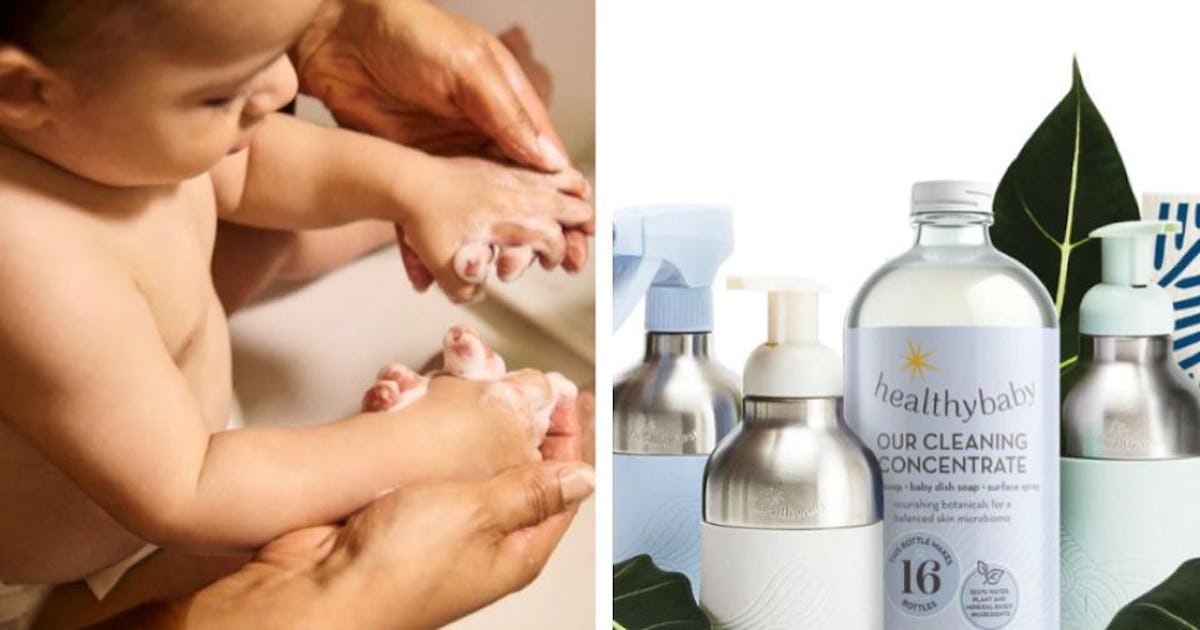 I'm not what you'd call a neat freak. Those little fingerprints on the windows — they'll be there tomorrow. But every year, like clockwork, I get spring cleaning fever and suddenly everything needs a deep clean. The success of my cleaning sprints, however, hinges on whether I have the right products on hand — and whether I feel okay about my "little helpers" getting in on the action (because kids and spray bottles … moths to a flame). That's why Healthybaby's Our Cleaning System is such a game-changer — not only can you use this plant-based concentrate on just about everything (and everyone) in your house, it's also EWG-verified so you know it's free of nasty stuff.
Fast Facts
What's included: A 16-ounce bottle of cleaning concentrate, 3 reusable stainless steel bottles with different dispenser styles, and 3 washable Swedish dish cloths.
Intended uses: Hands, dishes, surfaces, and more.
Impressive claim: One bottle of concentrate equals 16 bottles of hand soap, baby dish soap, or surface spray.
Noteworthy ingredients: Honeysuckle, rosemary and bergamot oil, baking soda, and glucoside (a plant-based cleansing agent that foams).
Free from: Parabens, sulfates, fragrance, gluten, PEGs.
Certifications: Environmental Working Group (EWG)-verified, Made Safe-certified, Certified B Corporation
More About Healthybaby's 'Our Cleaning System'
Healthybaby's multipurpose concentrated cleaner is designed to be used on pretty much everything, from baby bottles and tiny hands to sticky counters and even glass. One shopper noted, "I was pleasantly surprised to see it cleaned a mirror that was pretty streaky to a beautiful shine!"
Gently formulated and dermatologist-tested, this all-purpose cleanser is basically a one-and-done household cleaning product. One reviewer reported, "I love that I can make surface spray, dish soap, laundry detergent and hand soap all from one formula. I don't have to buy four different products now and i'm really cutting down on waste."
It's plant- and mineral-based and free of parabens, sulfates, fragrance, and gluten, too. As one shopper raved, "Feels so good not to worry about chemicals with three littles at home."
What's Included In The 'Our Cleaning Set'?
While $60 for a cleaning product might seem pricey, you actually get a ton of stuff in the order. In addition to the 16-ounce cleaning concentrate, there are three stainless steel reusable bottles — one for hand soap, one for dish soap, and one for spraying surfaces. You also get three cute Swedish dishcloths that can be tossed in the dishwasher or washing machine when they need to be freshened up.
The brand claims to make "fewer, better things" and in this case, one bottle of concentrate will keep you stocked (and save you plenty of store runs) because it makes 16 bottles of hand soap, dish soap, or surface spray.
Does Healthybaby Have Other Cleaning Products To Try?
Healthybaby has an entire line of concentrated home cleaning products that are EWG-verified, including a set specifically for laundry.
Featuring a concentrated laundry detergent and three wool dryer balls, Healthybaby's Our Laundry System is designed for the whole family to use. The plant-based cleaner is biodegradable, and just two to three pumps will wash an entire load of laundry. It comes with all the same certifications as the 'Our Cleaning System' above so you know it's ultra-safe.
One shopper reported, "Love it! Great subtle scent and strong cleaning power for one of the cleanest laundry products on the market."