PREGNANCY
10 Disneyland Hotel Tips You Can't Visit the Disneyland Resort Without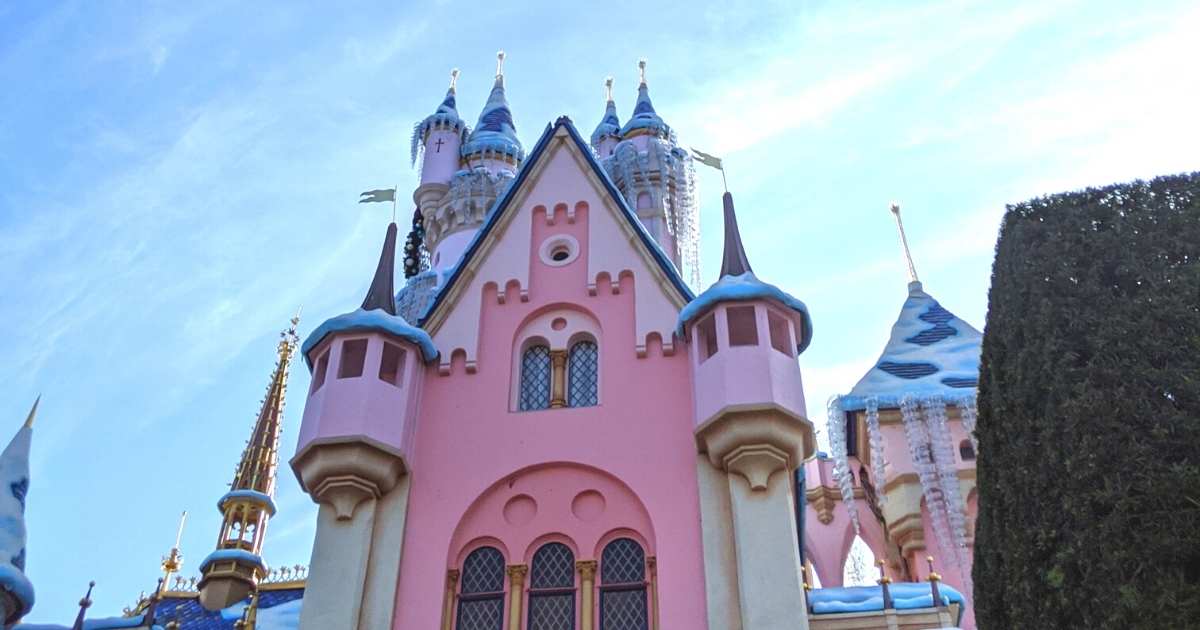 Staying at the Disneyland hotel is a great option, but did you know that the Disneyland resort doesn't even have enough hotel rooms for all its guests? That's why they have several surrounding hotels that actually might be cheaper (and closer) for your hotel stay while visiting the parks. So, let me give you 10 tips to help your family find their best Disneyland Vacation.
You'll find that many of the hotels linked are with my partner Get Away Today. I have actually used them since 1998 (personally) and have been a partner since about 2016. They really help you get the best hotel for your visiting Disneyland. If you're in doubt, be sure to give them a call at 1-855-GET-AWAY. They've personally toured most of the hotels and can talk through what would be best for you. Be sure to mention coupon code CURLS10 to save an extra $10 on your tickets and hotel package. I appreciate it when you guys let them know you heard about them from me, since we're such good partners.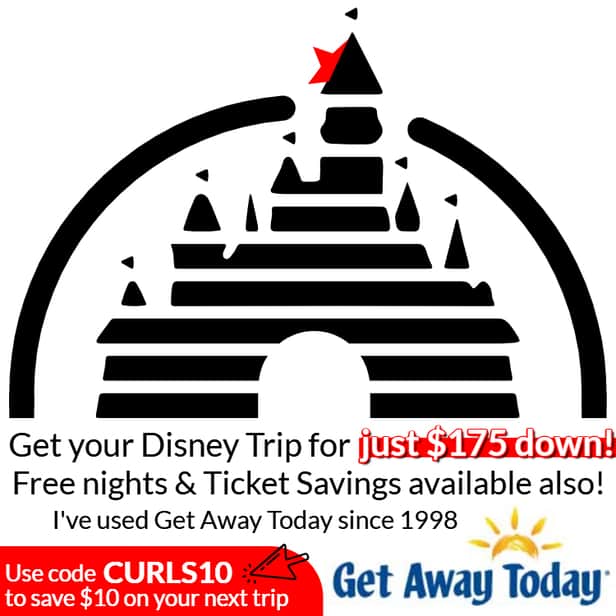 I know 3rd party sites have gotten a bad rap in some instances lately, but Get Away Today mostly deals with the Disneyland resort, and are tight partners with each hotel they offer — often booking MANY of their rooms each night for them. When there has been a rare issue with a reservation Get Away Today was able to call them and resolve it within minutes easily. They book both Anaheim and on-site Disneyland hotels and are an authorized Disney vacation planner.
Disneyland Hotel Tips
#1. Disneyland Hotels Are Expensive
Sadly, you'll find that the Disneyland resort hotels are some of the most expensive. They have 3 hotels to stay on-site:
Actually, in looking at some less-busy dates those three hotels are the priciest in the area, followed by a hotel with a waterpark that is very walkable (and still $400 cheaper than the Paradise Pier hotel).
So, if you want to save some cash on your trip — booking a hotel off-resort is a good option for you (and booking when Disney park is less busy can also save you some cash).
#2. Disneyland Resort Hotels Aren't Always the Closest (and looks can be deceiving)
In fact, Paradise Pier and The Disneyland hotel seem much further to me. While the Paradise Pier hotel now has a new entry into California Adventure, they still have a bit of a walk — and if you're going to Disneyland it's even further.
For both of those hotels you have to walk through the Downtown Disney District in order to get to the parks, vs some of the hotels on Harbor Blvd have a shorter walk. Actually, the Disneyland Hotel is located right outside of Downtown Disney.
Disney's Paradise Pier Hotel says it is a 10-15 minute walk to Disneyland, and The Disneyland Hotel is about a 10 minute walk. And I'm talking a good pace of a walk. I think it would be closer to 20 to get my family from the Paradise Pier hotel when my kids were younger (now, my teenagers leave me in the dust).
Now, that leave us with Disney's Grand Californian Hotel. Yes, it is SUPER close to Disney's California Adventure park — so much that it has it's own entrance. However, that hotel is HUGE and really LONG. It is above most of the Downtown Disney area, so depending on where your hotel is along that chain of hotel, your walk can really vary. Plus, if you're going to Disneyland, you still have about half of Downtown Disney to go through (plus, whatever the walk is from your room to that exit.
I have had so many friends, and blog readers get a reservation at these hotels and then be upset with what their walk was.
It's just VERY different at the Disneyland resort in California vs how things are in Walt Disney World where the on-property hotels have a lot of perks and value for where they are located for your Disney vacation. Also, DIsney World has some cheaper hotels very much on par with the surrounding hotels.
It sounds petty, but you have to remember you may be pulling 15-20,000 steps just inside the park, so when you add additional walking from your hotel it adds up!
There are a lot of hotels near Disneyland that can very well be closer (the Best Western Park Place is about a 5 minute walk for me).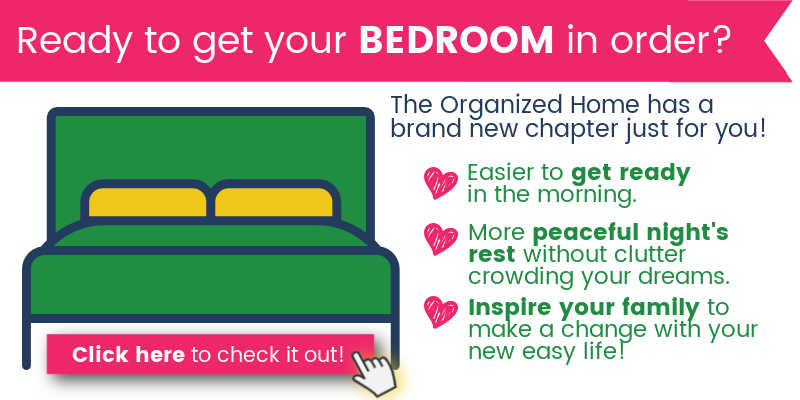 #3. A lot of surrounding rooms have a 5th person option
Most of the resort hotels sleep 4 (two queen beds) , or they do have suite options (which are not cheap).
That can make it hard for a trip to the Disneyland resort for families with 2 parents and 3 kids — and the good news is that many of the surrounding (and close) hotels offer a 5th person pull-out (it's like a chair that folds out into a bed) that you can put a kid into.
Some of them also offer bunk beds, or larger family suites as well — there's a lot better options, at smaller prices just across the street for your Disneyland trip. Be sure to check out those posts I linked for more info on those hotels. Lots of good options in there!
#4. Several close hotels also offer free breakfast
None of the Disneyland hotels offer a free breakfast. I believe that some do have consierge level that offers this type of ammenity, but as you can guess, this doesn't come cheap.
Several of the surrounding hotels offer a breakfast.
AND, there's also a Panera or a McDoanlds on your way from some of the hotels on South Harbor that can make for an easy & cheap breakfast on your way.
Pro Tip: Use the app to order so you don't have to wait in line on a busy morning.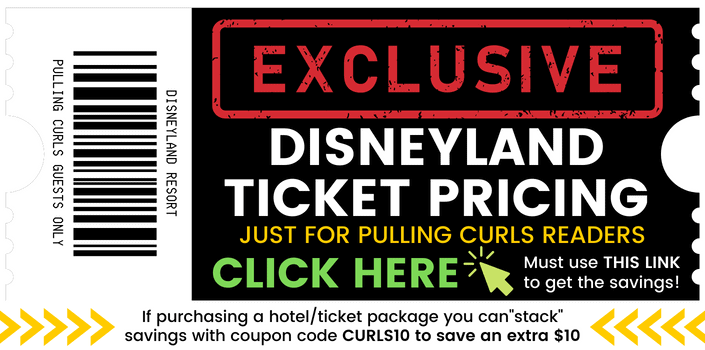 #5 Even if you get an Uber, you may still be ahead
I think a lot of people think that they won't have to pay parking or for a car if they stay on property.
First off, the resort parking fees aren't cheap, and secondly, an Uber to the park from the hotels nearby (even not the CLOSE ones) is about $10 each way. So, if your party can Uber (doesn't work if you have carseats, sadly) if you think that it's jsut $20 more/day to Uber, it might just be worth it to get a hotel room a bit out.
We recently stayed at The Viv Hotel and we just LOVED it. It's, personally, not walkable — but it is a lovely hotel, and with the savings you'll have the Uber is well worth it. Seriously, check out the pricing here.
#6 Walkable means something different to everyone
SO many of these hotels will say that they are "within walking distance". But, remember that walkable means something different to everyone.
They may also say that they are just one mile from Disneyland park. But, that may mean the BOUNDARY for Disneyland park, not the entrance. When in doubt, ask how long it takes to walk to the entrance. And unless you're a speed walker, I'd add about 25% of their time for a normal person to walk there.
Keep in mind this is also true for people planning to drive into the park. Personally, I'd rather take the ART shuttle or an Uber into the parks if it's an option, rather than park there. However, if you're coming from further out it would obviously make sense to park at the parks.
Bonus tip: The Toy Story Parking Lot is cheaper because it is a bit further away, but it does offer a shuttle service that allows you to skip security at the parks (because you do it prior to getting on their busses).
#7 Did you know there are 3 close airports nearby?
Ok, while we're talking travel — did you know that there are 3 airports close by to Disneyland park?
John Wayne (SNA) — a nice, small airport, and the closest
Long Beach (LGB) — a smaller airport, a bit further away (my Uber is usually $5-$10 more than SNA — but often the flight is a lot cheaper)
LAX — This is a huge airport, and further out (Uber will likely be $50-$100 depending on pricing for the time you land) but can sometimes save you a lot of money (especially if a few of your are flying in).
#8 There are few close hotels with water parks included!
Now, the Disneyland hotels are great. Their pool areas are amazing (I have heard the Disneyland Hotel has the best pool), and there are Disney perks and hidden Mickey's all over the place (stay tuned for more info on the perks) but did you know that there are 3 hotels close by that also have water parks?
Cambria Inn & Suites (all rooms booked through Get Away Today qualify for free waterpark admission)
Courtyard Hotel (this is the next priciest hotel after the Disneyland ones). The hotel is just across the street, and the water park is pretty fun!
Howard Johnson's (this one is best for little kids — but a great value and close by)
One quick note, however, is to check their hours. We've come back to the hotel from the park wanting to use the water park only to find that it has closed. Which was a bummer.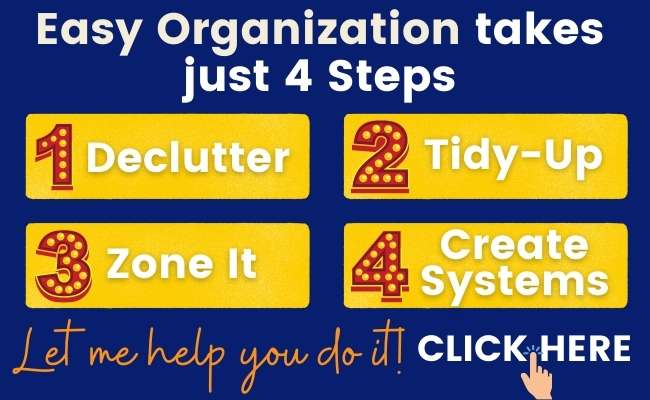 #9 The California Grand isn't the only Luxury Hotel Close By
There are a few different luxury hotels in the area. My favorites are the:
JW Marriot — I stayed here. The rooms are quiet and this is a walkable hotel
The Westin — I have toured this hotel. The rooms are lovely.
#10 Disneyland resort hotels also have their own perks
Ok, after all this talk about staying off-resort, let's talk about the biggest perk to staying On-Property:
They are currently offering Disneyland resort hotel guests (at any of those 3 hotels) early entry of 30 minutes before the park opens to regular guests (formerly called extra Magic Hour). That can get a few rides in before the rest of the visitors start their day!
Each of the other hotels do have their own perks — like the Disneyland monorail going straight into Disneyland from The Disneyland Hotel. This isn't always the best way to get into the parks as there can be a line (and it's not particularly speedy).
And, remember Paradise Pier has their own entrance into Disney California Adventure Park.
Formerly, you could have any souvenirs you purchased be sent to your hotel room (although I don't believe that has re-started up again after Covid).
Many of the hotels also offer Disney character dining — which can be fun if that's something you're planning on. It is, obviously, an added cost. But many families think it's worth it.
There's also plenty of Disney magic (and Disney theming) in those hotels. Don't get me wrong, it's a great trip for your family. Disneyland isn't known for being cheap and that could very much be a fun splurge.
Of course if you are planning a trip to Disneyland, don't miss my other Disneyland Tips with all you need to know about Disneyland. Be sure to join my email list so I can send them to you while you plan your trip!
A few more pro tips:
The Disneyland app works whether you're on-property or not, so there's no perks to being at the hotels for that.
Disneyland tickets can be bought cheaper with Get Away Today than through Disneyland or through their hotels, unless you are purchasing just a one day ticket, then you have to purchase it through Disney.
Want to check out the Grand Californian, but don't want to stay there? Anyone is able to come into their hotel lobby (a great place to escape for a bit on a hot afternoon).
Whatever you do, don't pay Disney prices. Be sure to check your vacation package cost with Get Away Today first — I bet you'll be surprised at how much you'll save!