PREGNANCY
16 Alternatives to a Traditional High Chair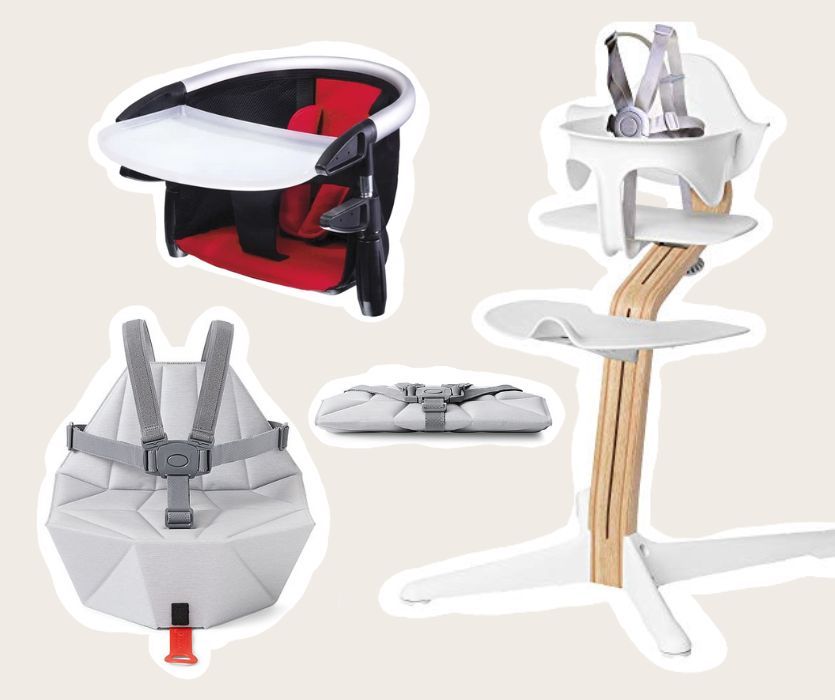 On the list of "Must Purchase" baby mealtime items, a high chair might seem like an obvious choice. Options like the Ikea Antilop, which are easy to clean and are even easier on the wallet have made their way to the top of many a baby registry. However, cost, limited space, appearance, and longevity of use are a few reasons why some parents have decided to make do without a traditional high chair. Here are a few alternatives worth checking out before your baby is ready to start solids – it sneaks up fast, I tell ya!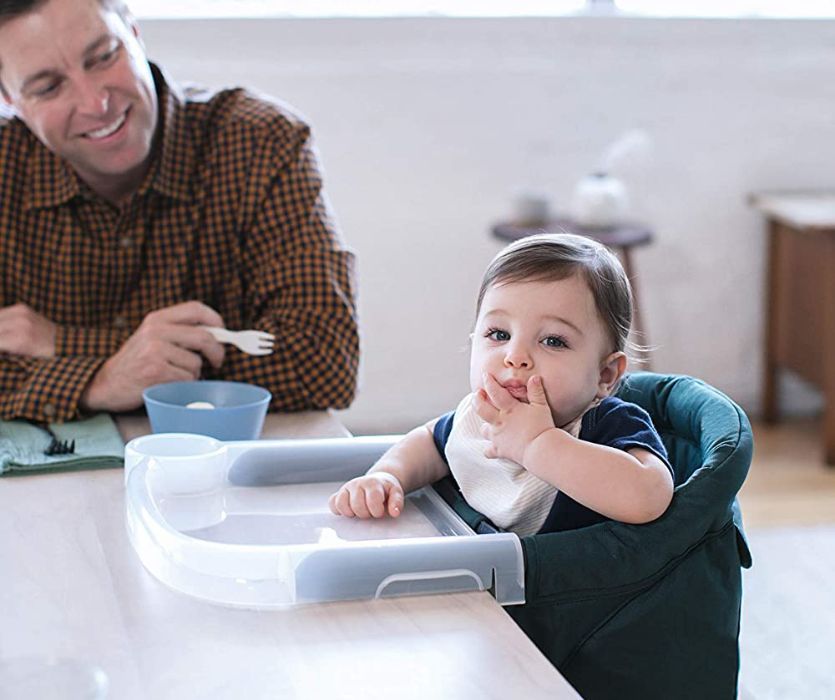 Chairs That Attach To A Table
There's no denying that classic high chairs can command more of a presence in your kitchen than a tantrum-throwing toddler. Luckily, there are some pretty cool portable hook on seats out there that leave your floor space free while your child can still join in on family dinners.
Pros:
Leaves your floor space free so there's nothing to trip on
You can take them with you to restaurants, visit family and travel
Your child is included in the meal
Cons:
They need a 'lip' to be able to attach, so they might not work on every table
You need a table for them to work which might be tricky for certain situations, i.e., buffet dinner, potluck, dinner in front of the t.v., etc.
Top 3 Hook on High Chairs:
The Inglesina Fast Table Chair comes in 10 different seat colors with a handy pocket on the back for toting along spoons, plates, and other mealtime knickknacks. It's compatible with most tables and supports kids up to 37 pounds. Get it here.
The Chicco QuickSeat Hook-On Chair is easy to cinch into place using the one-pull tightener. Its built-in carry strap makes it a snap to take along anywhere and works for babies up to 37 pounds. Get it here.
The Phil & Teds Lobster Chair is lightweight and comes with a dishwasher-safe tray and a carrying case for transport. The 5-point safety harness keeps babies up to 37 pounds nice and sturdy and the fabric seat is easy to remove for a quick hand wash. Get it here.
Booster Seats
While some toddlers might be content to sit in their highchair until they've reached the weight and height limit, others hit the "I'm doing what everyone else is doing" phase a little sooner and will be sure to let you know. Booster seats can be popped onto your regular dining chairs, making them a great transition into the real thing.
Pros:
Portable and easy to pop into storage when not in use
Safety straps allow them to be used on most regular dining chairs
Can be easier to clean high chairs thanks to minimal nooks and crannies
Cons:
Often requires closer supervision than a high chair
Check the requirements of your booster – some aren't meant to be used on chairs with cushions, and none should be used on lightweight or folding chairs
Many children aren't ready for a booster until around 18-24 months
Top 3 Booster Seats:
The Bombol Popup is one of the most visually interesting booster seats around. Pop it open in a flash when you need to use it, and fold it completely flat when you don't. The five-point harness can convert into a three-point harness as your little one grows. As a bonus, its carrying bag converts into a seat cover, and the seat itself comes with an easy to clean stain and odor-resistant finish. Get it here.
The Dreambaby Booster has a built-in shoulder strap that makes it easy to carry, and the storage compartment is perfect for toting your baby's mealtime essentials. The long securing straps fit most chairs and the removable covers make handwashing a breeze. Get it here.
The Prince Lionheart Booster Squish is as mighty as the name suggests. The seat is easy to clean, super comfy thanks to its suspended seating area, and can be used for kids up to 60 pounds. Get it here.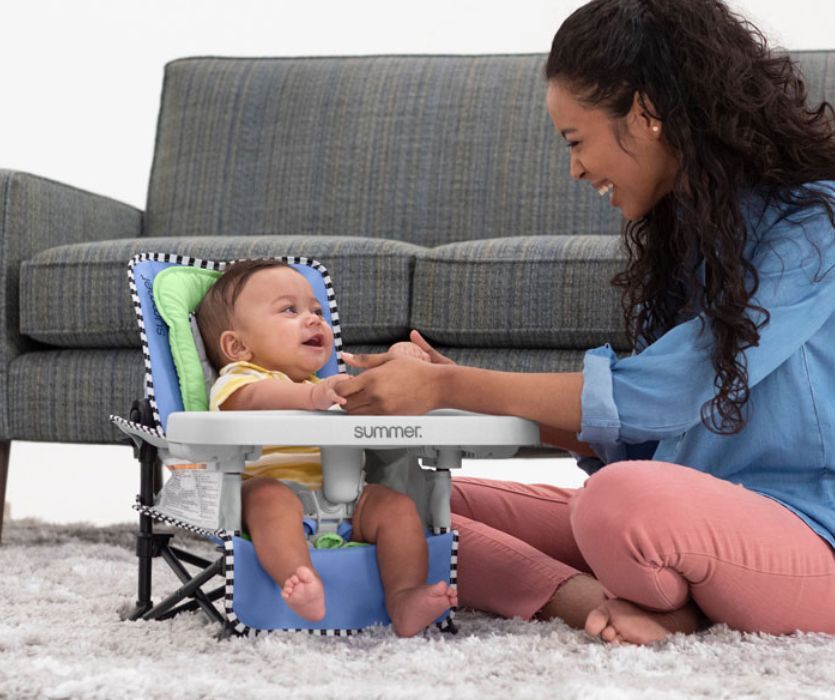 Chairs To Use For Travel and Outdoors
The only thing worse than trying to pack a giant high chair on a camping trip is wrangling a baby whose sole mission is to stuff their face full of as many handfuls of dirt and pinecones as they can before anyone notices. Parents can breathe a sigh of relief knowing that portable highchairs are making pinecone poops a thing of the past.
Pros:
Easy to fold up and take with you
Compact when not in use
Perfect for taking camping, to music festivals, outdoor sports, picnics, the playground, etc.
Cons:
May still want to buy a separate seat for regular use at home
A little harder to clean than other styles of high chair
Top 3 Travel and Outdoors High Chairs:
The Original Easy Seat by CozyBaby can truly tag along wherever you go – it folds up small enough to throw in your diaper bag, and even your purse if you carry such a thing anymore. Slide it over the top of the nearest chair, pull the strap around to the back and click to secure. The 5 point harness will keep your baby nice and snug, and probably the best feature of all is the fact that it's machine washable. Get it here.
The Summer Infant Pop 'N Sit Booster looks like an adorable little camping chair that folds up and is easy to tote around thanks to its handy carrying case. Although it's perfect for outdoor excursions, it can also be strapped onto an adult chair to use at the dinner table. Get it here.
The ciao! baby Portable High Chair comes in one piece (even the tray part!) and doesn't require any assembly – just unfold it and lock it into place and let mealtime begin. Much like your favorite camping chair, it comes with a built-in cup holder as well. Get it in 9 colors here.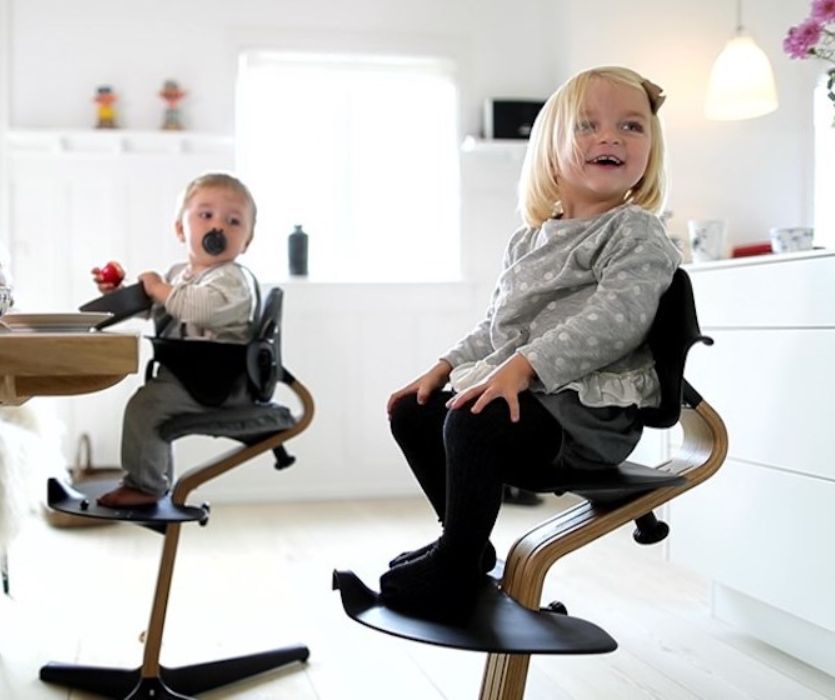 Chairs That'll Stand The Test Of Time
Shelling out cash for baby gear that will only get used for a short period of time can sometimes feel hard to justify. A few factors will determine just how many months or years you can squeeze out of your high chair, including your kid's height, weight, and personality. Here are a few that can get you the best bang for your buck.
Pros:
Can be used from the newborn stage right up to childhood (and beyond in some cases!) thanks to their versatility
Footrest adjustments and height adjustments can be made to suit the needs of everyone from young babies to big kids
Some models can be customized (choose your favorite colors for seat cover, legs, etc.)
Cons:
Can be a bit pricer than other models
Custom designs may take longer to arrive
Not super portable or space-saving
Top 4 "Grow With Me: Chairs:
The Ergobaby 3-in-1 Evolve High Chair can be used as a high chair (up to 33 pounds), chair (up to 220 pounds), and kitchen helper (up to 100 pounds) as your littles get bigger. It converts in seconds without the use of rolls and folds up quickly and easily when you need to store it away. Get it here.
The Tripp Trapp High Chair from Stokke is a timeless favorite that brings your child right up to the table. The Baby Set is best for children from 6-36 months, but the beech wood chair can hold up to 300 lbs, so your child can use it forever. Get it here.
The Nomi High Chair was created by the designer of the iconic Stokke Tripp Trapp chair. It's lightweight, easy to clean, looks damn nice, and is a stability superstar. You can get an infant attachment to replace your need for a bouncer and you can even use it as an ergonomic office chair – it holds up to 330lbs. Get it here.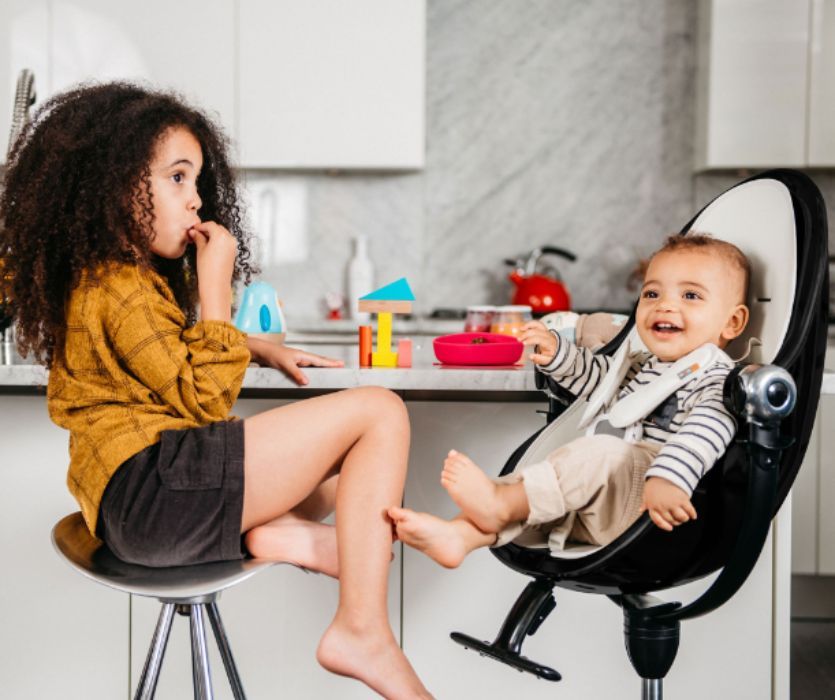 Traditional High Chairs That Look Anything But
Let's be honest – some of the high chairs on the market may not be your top choice when it comes to aesthetics. If you're going to add another piece of furniture to your decor, it might as well look good, and the best high chairs should check all the boxes for comfort and style.
Pros:
Unique and stylish designs
Options to customize color of seat pad, frames and sometimes accessories
Highly reviewed
Cons:
Chairs this stylish don't come cheap
Not really portable
Don't save a ton of space
Top 3 High End High Chairs
The Bloom Fresco has a look that's totally out of this world. Seriously, it looks like it belongs on a spaceship. Choose a frame and seat pad color to make your chair totally unique. Use in the cradle position for babies 0-3 months old, the semi-upright position for 3-6 month olds, and pop on the tray in the upright position (or use at the table) once your kiddo is ready to join in on mealtimes. Get it here.
The Tavo High Chair lets you customize your fabric and your base to create a seat that matches the rest of your dining space. The chair pulls up to most standard height tables, meaning it doesn't need a tray. It arrives fully assembled and is easy to clean. Get it here.
The OVO City has a mid-century look that's hard to resist. The round tray is a cool alternative to typical high chair design, and the footrest will keep your kid's feet planted as they dig into dessert. Once your baby's high chair days are done, the feet and high chair pieces can be removed and the seat can be used as a desk chair. Get it here.
Can you get away with not using a high chair?
If we're talking about the big, clunky beasts that take up way too much kitchen space and make you cringe to add to your baby registry, you most definitely can.
With so many alternative options to traditional high chairs out there, finding something that suits the needs of everyone in your family – whether those needs are style, space, comfort, price, portability, or all of the above – is more than possible.
Are you team "Traditional High Chair" or do you have a favorite high chair alternative? Let me know your faves in the comments!
Our next reco: New Baby Checklist – What This Kid Will Need