PREGNANCY
Best 6 Alternatives to Color Street Nail Strips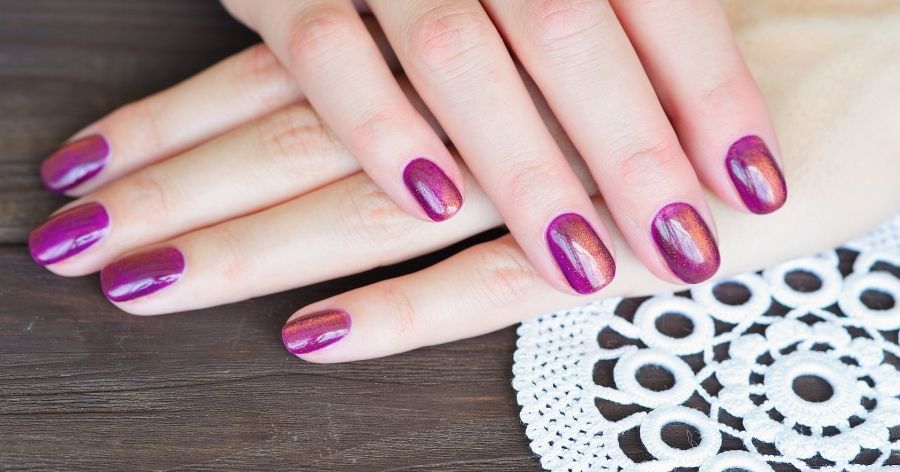 I'd heard a lot of good things about Color Street Nails, but what are the alternatives? How do the nail strips work and which ones are easiest, healthiest and longest-lasting for my nails? In this post I will review Lily & Fox, Dashing Divas, Incoco as well as Color Street nail polish strips.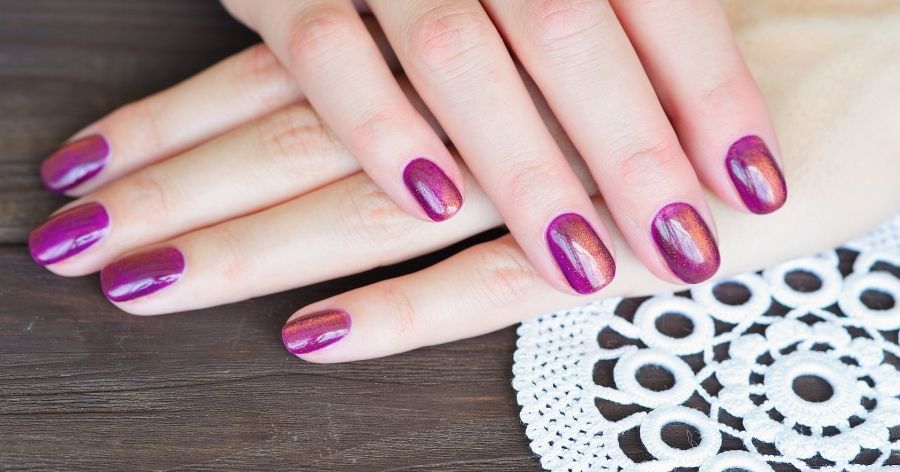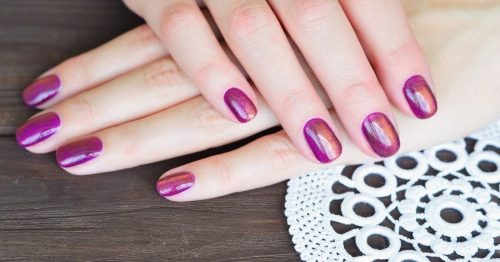 Please note that the review for these nails was done in 2019. I no longer wear nail strips and have heard that some companies have upped their quality since then (especially Lilly and Fox) — so definitely read the comments too for people's experiences with them.
Nail Strips
Why Nail Polish Nail Strips?
Nothing beats a great mani/pedi at a nail salon– but the time and expense can be daunting. At-home just isn't the same, and if you lack coordination (like me) it can be REALLY HARD to get a good manicure on your own. SO, nail strips offer a convenient and stylish option. Which one is best?
Benefits of Nail Strips
They're really easy to apply the strips, and require no dry time. Plus they come in great colors.
There are even some of the gel manicure variety that give your own nails a really solid base (I love this type if I was moving or something heavy on my nails). No base coat is required (although some people prefer to use a top coat).
Just make sure that you're staring with a clean nail (I wash my hands and then wipe with nail polish remover (some use an included prep pad) to make sure it's starting out "fresh".
I really do believe that with the right strips, you can have a salon-quality manicure, and even look like a nail artist.
Some of the strips come in solid colors and some have an accent nail, there are also french tips, and some of them are all patterns (sparkles, geometric designs). There are a lot of options.
These beautiful nails come in different sizes for a better fit on your different fingers.
Remember, the great thing is that there is no drying time, and you're much less likely to mess up than with regular nail polish or gel polish. These are NOT fake nails (although some of the brands carry a separate fake nail kit).
NO uv lamp, warmth or warm water is required with these nail polish stickers. And your right hand is just as easy to do as your left. ???? No artistic skills necessary!
As you read these reviews, please note that this is my review of them in 2019. Any of the brands may have changed their formulation since then. Many people have said that Lily and Fox has gotten better, but I have not re-tried them. FYI.
Review of Incoco Nail Strips
Price: 6'ish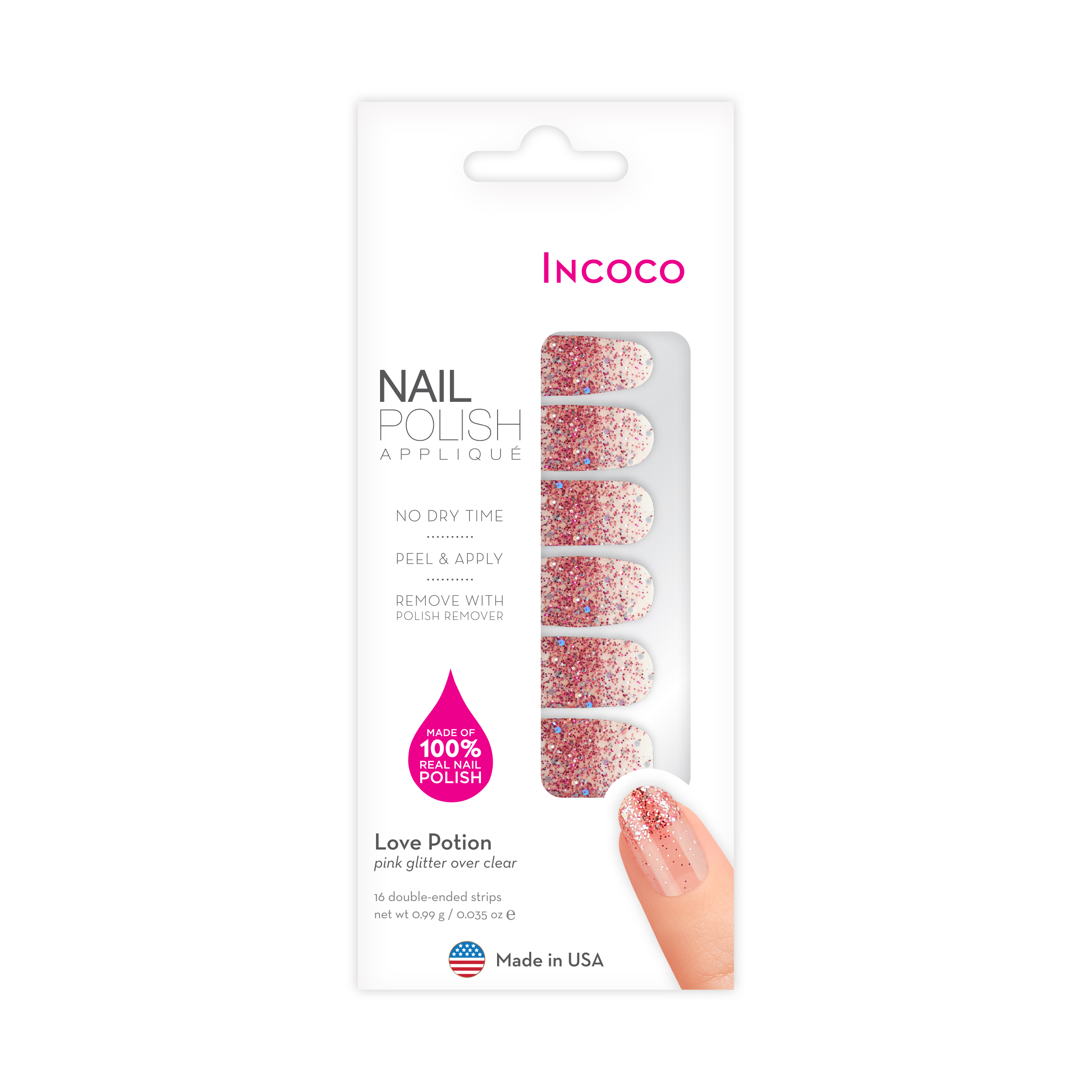 Incoco nail strips are made by the same people who do Color Street Strips. They have had them for sale for Walmart or Ulta Beauty for years under the brand Incoco.
You can also get them at Sally's and at Ulta, as far as I hear.
They are actually the first nail strips I tried (I did try Jamberry a few years ago with lack-luster results). I have also tried the "stickers" you can get at the dollar store. They lasted about a day.
I love the price and how easy it is to grab them at my local Walmart.
I have also ordered them online and picked them up in-store, as Walmart.com has a larger variety than my actual store.
Application is very easy. The strips are well made and the "tabs" come off easily.
Wear is good, but I did notice cracking on the lighter nail varieties. I think it was only noticeable to me — but it is there. Really tiny cracks.
They also chip quite a lot on the ends. I am not easy on my nails, by any stretch of the imagination. I type a LOT and I also do dishes and clean quite a bit.
I also notice on these that my nail will snag on the area closest to my cuticle as these grow out. It's annoying.
These strips feel very smooth and polish-like though.
An absolute dream for someone who hates painting their nails (and gets the polish all over).
Review of Luna Nail Wraps
Price: $6'ish (with free standard shipping)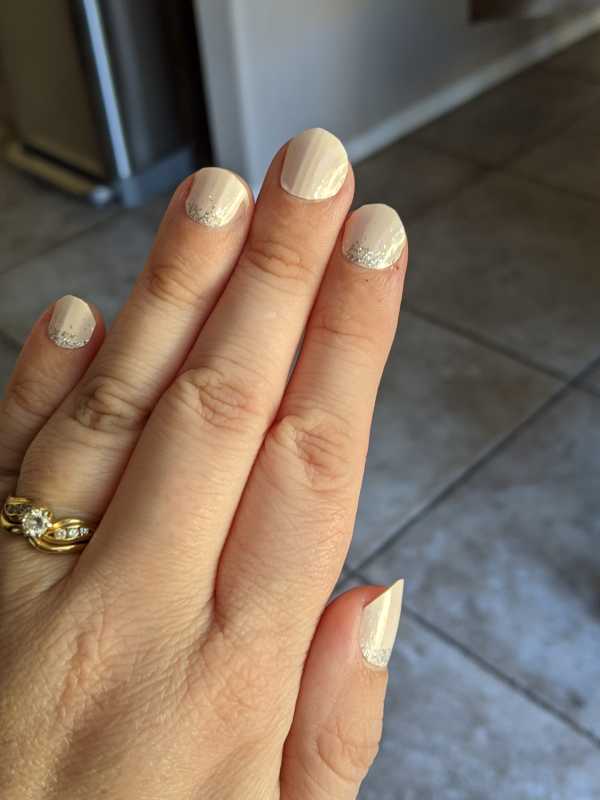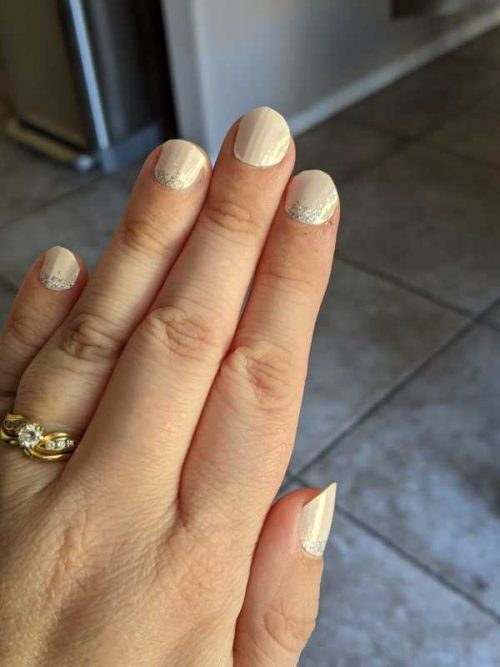 Luna Nail Wraps are brand new to the market, and I was excited to try them (they did send them to me, but they are local to me so I am also excited to support a small business).
BTW use code PULLINGCURLS to save 10% at Luna Nails!
Putting the nail wraps on was a simple process. They feel VERY similar to Color Street and Incoco.
The one issue is that the "top" part of the nail doesn't tear off. We had to use nail clippers to cut around it. It was also a bit harder to get the backing and the clear sheet to tear off, but nothing too hard to handle.
Also, in comparison with Color Street, I couldn't use my finger nail to tear off the nail strip at my cuticle, it was a bit too thick. That being said — I've had a hard time with that on all the brands.
Wear was pretty good, this Instagram shows some of the cute glitter ones I have and how they lasted (these are pictured after a week).
Luna Nail Pro's
SO many cute colors and patterns (similar to Lily and Fox below) and she gets new ones really frequently
Free, fast shipping (and she sends a little treat too)
Lasted well, very little chipping
Came off easily with mineral nail polish remover. Some people still use an acetone nail polish remover for these too.
Small business, which is always awesome to support!
Luna Nail Con's
Feel a bit more rubbery than color street — they also seem thicker (which is probably why they had better wear).
Application process was a bit harder than Color Street — doesn't come off the backing and the top clear cover doesn't come-off as easily.
>>Purchase Luna Nail Wraps Here!<<
(be sure to use code PULLINGCURLS20)
Nails Mailed Review
I have ordered a set from Nails Mailed and just put them on. They are exactly the same as Luna Nail wraps (but I don't have a coupon code). A little "sticky" feeling but otherwise well wear. Seem a bit thicker than Color Street but I was pretty pleased.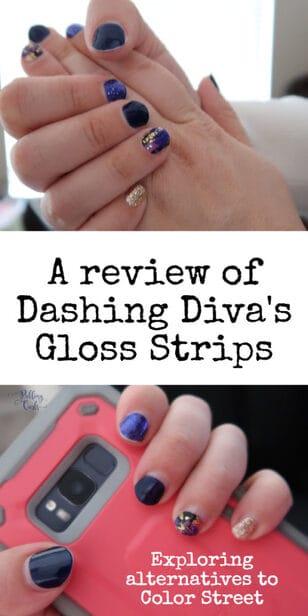 Review of Dashing Diva Nail Strips
Price: $7
I found these (actually, my daughter found them, and gave them to me for Mother's Day) in Walmart. I love that they're available there. They are also available online.
Putting them on went well, except I felt like they didn't have very many large strips and I had to go with a smaller strip for my thumb.
Easy to reposition and nail still stuck well.
The strip was harder to "file" off — I tried filing, but next time I think I'd cut them with a nail clipper to see if it works better.
These strips seem thicker and more "rubbery" than the other brands. I think these are more gel nail strips (because of that weird feeling — it does feel so much different).
The strips stayed on SO well. No chips, no cracking. Just my nail growing out til' it's awkward so I took them off. You can see in the picture above (top is day 1 and the bottom is at two weeks — I had hardly ANY chipping and they looked great!
I used just a drop of cuticle oil and just pulled it off with a cuticle stick (which is how they recommend). I did also try nail polish remover. It didn't work quite as easily and I felt like it left extra goo on my nail.
Overall I didn't like removal as much as I liked the Incoco. I feel like it might not be AS healthy for your nail, but I haven't tried them enough times to be sure…
But, the nails looked better close up and I like all the options they have for "accent" nails. I was able to use quite a few of the nails on both the left and right of my hand, but not the for my thumbs. The strips don't seem quite as wide.
They also have a pretty good variety of nails if you shop in their online store, and I like all the "accent nail options".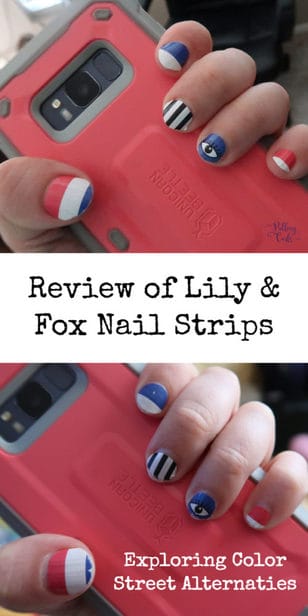 Review of Lily & Fox Nail Strips
Price $2.99
Fyi, I only found these online, but they do have free shipping.
I was SUPER excited to try these! I loved the price, but most of all I loved all the different options that they had. SO many cute colors and patterns. Great themes for holidays, etc.
At first glance, they look like the rest of them.
Then, I pulled them out of their package, and tried to use them.
It was a SUPER difficult application process.
First off, the clear stuff on the top was super hard to peel off, and it was also more difficult to get the sticker off the backing.
The sticker itself seems thicker than Color Street. The first side went on fine, but when I went to remove the tab and use the other half for my other nail…. it wouldn't come off.
I ended up stretching the sticker and it was super wonky for my other nail.
Eventually, I just started cutting off the "tab" section on each nail, which made it work.
Also, I bought stripes for my first go with these, and that made it even harder, fyi — for any of these, I think I'll steer clear of stripes for a bit. I'm not that adept. ????
The wear on these was horrible. Within minutes I was seeing chipping along the edge of my nail. Sometimes it didn't chip, but the "sticker" would just slouch up — making it super annoying.
I had chips and weirdness on them immediately. You an also tell in the photo above (the top is day 1 and the bottom is day 7) that some of the color rubbed off, and they just wore REALLY weird.
The sticker itself was more like a "sticker' and was pushing up on my nails.
By day 7 I was completely over them and removed them.
They came off similarly to Dashing Divas in that I ended up just pulling the whole sticker off. I tried to use nail polish remover but it left a goopy glue layer on my nail that I wasn't a fan of.
Anyway, I was SUPER disappointed with this brand. I do have a few other strips and I might try them, but from application to wear, they were a big fat no. Sadly.
If they changed their formula and made them easier to apply I'd be on board to try them again. They have SO many cute patterns. Just didn't execute well. I also feel like these were nail stickers vs real nail polish strips.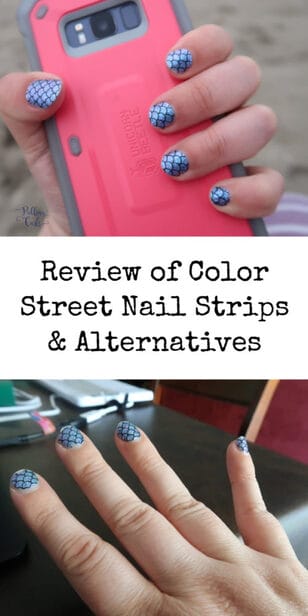 Review of Color Street Nails
Price $13
Shipping was also $3 — making these by FAR the most expensive. If I had bought 3 I could've gotten one set for free, putting them closer to the $10 dollar range (and shipping is always $3).
I thought I'd try the ACTUAL Color Street if I was going to share alternatives with you guys.
After trying Lily And Fox these were an absolute DREAM to put on.
SO easy to get them off the paper and apply to my nail.
I actually think they were easier than Incoco.
They smoothed out so nicely, and they don't feel like rubber on my fingers.
I had heard they were of a higher quality than Incoco, but honestly, after I put them on (which was easier) they feel pretty much the same. If you buy through a color street rep (my friend McKenzie sells them) you will get a much larger variety of nails to try, but the nails themselves seem pretty similar to Incoco.
Also, you do get more nails with Color Street than you do with Incoco – so that is a benefit!
Keep in mind that they say you can only use them when you open them. That's because these CAN dry out. I put mine in a ziplock and cross my fingers, but a lot of my friends use their flat iron to seal the packet for their 2nd use.
I could also use my food sealer…. but that seems like a lot….
I also liked that they include a larger variety of nail sizes. They had one much bigger than my thumb (it would have to be for your toe) and they have one that is smaller than my pinky. Which, is nice.
These seem to wear very similar to Incoco. I noticed some chipping on the ends right away. The strips I chose were darker in color, and I don't notice cracking (but I find it's harder to notice that on darker colors).
Removing Color Street Nails
This can be really problematic as those nails STICK to you (which is great, til' you want them off).
I use this mineral remover, and it works a lot better. I also think it is healthier for your nails.
My big issue with Color Street is that it is a MLM and I just don't like that business model. I also much prefer to just get my wraps at the store rather than having to wait to get in contact with their independent stylists and then get them sent, etc. Between that and the price point, that's what sent me to look for Color Street alternatives. But, I do love the color street nail strips — they probably are the best.
Nail Wraps Compared to At-Home Gel Nails
While I was at a family reunion one night, my niece was doing gel nails for all the girls, which was awesome.
They turned out great and they are wearing really well on my daughter.
It had to have taken DOUBLE the amount of time to do that gel nail thing vs the nail wraps — because I did my color street set while they did theirs.
Yes, the gel thing is probably cheaper once you have the whole kit and are only buying the polish. But, yipes! The time!
Also, my daughter said it sting-d, I think after they put the top coat on.
A great finished product, just a lot of time. I'd guess at least 1/3 an hour, and that's when someone else is painting your nails for you!
No one's nails lasted as long as the strips though, I find the strips to be much easier and longer lasting than at-home gel nails!
Tips for Nail Wraps at Home
With all of these, I found some tips that seem to help the application.
You can use both ends of the nail wrap
I would cut them in half vs trying to file/nail clip off the end.
You can re-stick a nail wrap
These are great, because if you get the wrap on your nail (before you cut it off) you can lift it up and try it again. So, if you don't get it centered, or you end up placing it diagonally, just lift up and try again.
These nail wraps vs Jamberry
Now, I'm pretty sure that Jamberry is out of business. BUT, I did use them back in the day. The biggest pain point was that they had to use heat to "seal" onto your nails. That was just a big fat pain. None of these require heat to attach to your nail — which is awesome!
How to cut off the nail wrap
With an of them, you'll need to cut it off the end of your nail (the excess) somehow.
With all of the brands, I preferred clipping the ends off — often taking a bit of my nail off with it.
I know they say to wrap it around your nail and then use the filing board to file it off. But that always left me with jagged ends, I thought.
I already don't love them for the first 24 hours or so, but using a nail clipper helps a lot.
FAQ's about Nail Polish Strips
Do you need to heat set them?
NO! That was the worst part of jamberry. And these are made from actual polish and just stick. They're awesome!
Do you think Color Street are Better than Incoco
Honestly, I couldn't notice a difference. Initially, I felt like there was less chipping at the top (and less time getting my hair caught in that area) which is nice. Color Street also has SO many more options though, so there's that.
Are these healthy for your nails?
Ultimately, probably not. You have to scrub harder than regular polish to get them off (or peel them off, probably taking some nail protection with it). I notice my natural nails are a bit more brittle after I use it. I also try to let my nails go au natural for a bit between strips.
How do you remove Color Street Nails?
Ugh, regular polish remover does NOT work well, and can damage your nails. My friend told me about the mineral remover I mentioned above and I LOVE it. So much better. Some of them I used a cuticle stick to take off too, with some cuticle oil.
Which did you like the least?
Lily and Fox — by Far. Really, really bad.
Which did you like most?
Probably Dashing Diva. EXCEPT the rubbery-feeling nail part. That kind of bugged me. I like the feel of Color Street/Incoco more.
What do you recommend for a first timer?
I actually tell everyone to go to Walmart (or buy them online) and get some Incoco's — see if you like how they feel/wear. If you like them, I'd get more and get some Dashing Diva's (if you don't love how they feel on, you likely are NOT going to like Dashing Diva). Check out Color Street for more options as well!
How do you apply these wraps?
Just apply close to the nailbed, and then smooth down along your nail. Use a cuticle pusher to rip the excess strip.
How do these compare to a gel manicure at a nail salon?
I'd say pretty comparable. Especially if you use the gel nail strips. For the home manicure — I honestly think they're great!
Do you think that one brand is better for your nails than another?
No, each of them makes my nails brittle and easy to crack. The harder the lacquer strips are to remove, the worse it is — so, glitter and gel were a bit worse.
Ultimate Comparison between Color Street and Alternatives
Best nail stickers:
Color Street/Incoco seem to have the best strip formula
Color Street has more variety (like, a LOT more) & includes more strips, but Incoco is cheaper and can be grabbed at Walmart.
Ultimately, I think Dashing Diva was my favorite. They just make your nails SOLID. They'd be especially great if you were doing something tough on your nails, as I think they are a good support. They just feel a bit weird, and I don't know that I'd wear them frequently as I felt they hurt my nail health a bit when I ripped them off).
So, that's all I can say about these. If you liked this post, I'd love it if you'd join us on the Curls, and check out my other fashion/beauty posts below that!
[pt_view id="23ee41a1fk"]