PREGNANCY
Dressing Your Baby for Cold Weather: Best Winter Baby Gear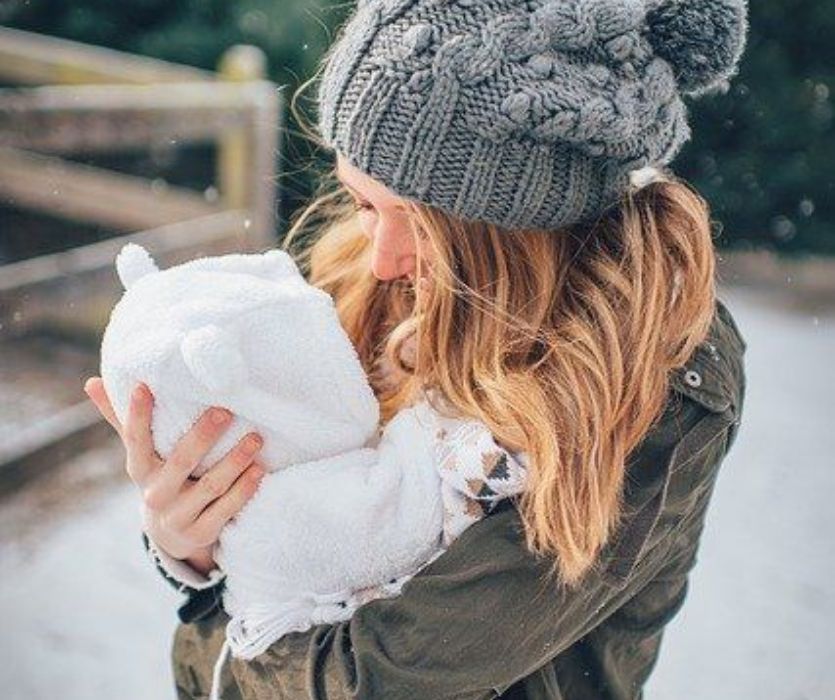 There's a lot to think about when dressing your baby for the cold weather. How many layers should they be wearing? Is that outfit safe for the car seat? How will you know if they're cold? How will you know if they're too hot? What's the best winter baby gear out there to keep them somewhere in between? We've got a few tips to answer all of these questions, as well as just what the heck you should put on your baby for all kinds of winter adventures – be they by foot, in the carrier, the stroller, or the car seat.
Cold Weather Base Outfit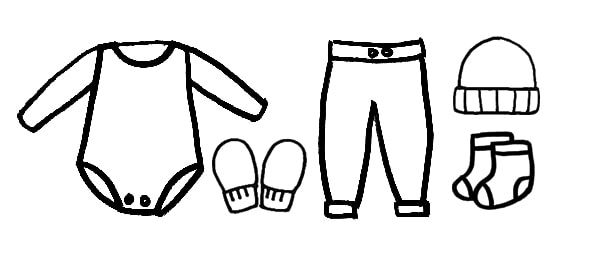 No matter what type of outing you're planning on, a warm and comfy base outfit is where you wanna start. First, dress your kiddo in a long sleeve bodysuit, pants and socks or a footed one piece (I recommend the zippered ones). If your little one is wearing something footless, many parents swear by these fleece booties by Zutano.
A pair of mittens, like these thumbless ones, will keep little hands nice and warm (and as a bonus, you don't have to try to navigate babe's teeny thumb into that ever-elusive thumb hole).
Finally, a cozy hat will keep extra heat from escaping out your baby's noggin. Because my kids were relentless about ripping their beanies off every 2 seconds, I found that hats that attached under the chin with a Velcro closure were a lifesaver. I prefer them to the hat/scarf combo hats because they are easier to take off a sleeping kid if they fall asleep on your stroll.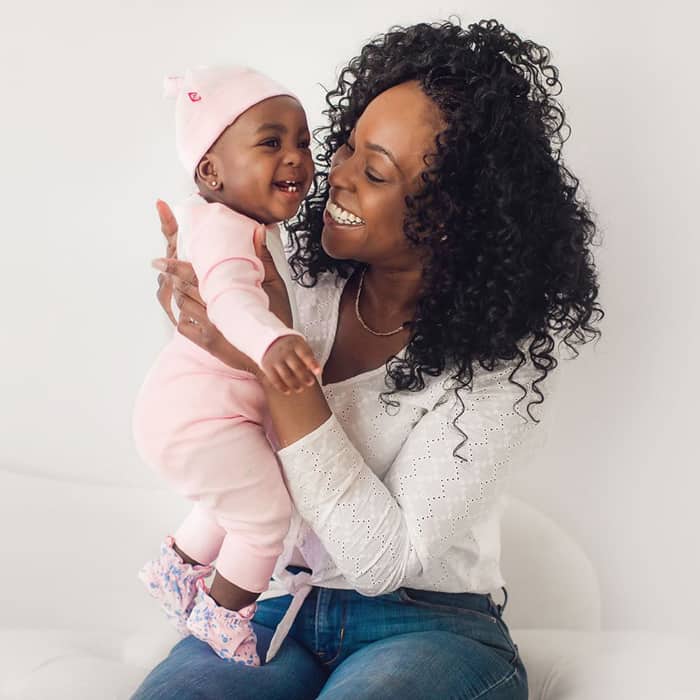 Carrier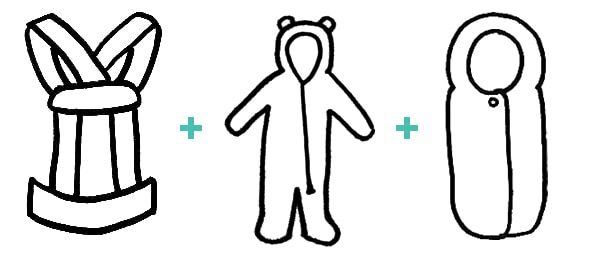 If you're taking your baby out for a winter stroll in a carrier, a polar fleece bunting suit is a great option. You can find great ones from:
For an added layer of warmth, grab a blanket, or a cover made for the baby carrier. While many companies make covers that are compatible with their specific product, like this one from Ergobaby and this one from Baby Bjorn, you can also find universal carrier covers, like this one on Amazon or 7 A.M. Enfant.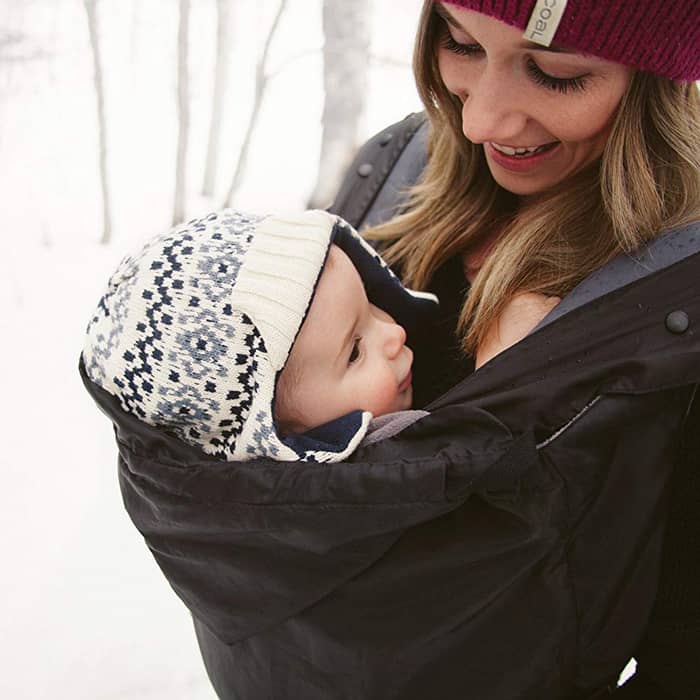 Stroller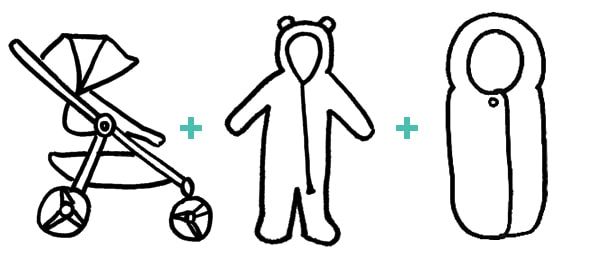 If your baby's winter adventure will be taking place from the comfort of their stroller, add a bunting suit like the one mentioned for use in the carrier.
If you're looking for something warmer, The North Face and Columbia make adorable bunting suits that can withstand the chilliest of temperatures. Choose a blanket or cover to further protect your kiddo from the elements, like the JJ Cole Bundle Me or something from 7 A.M. Enfant.
Infant Car Seat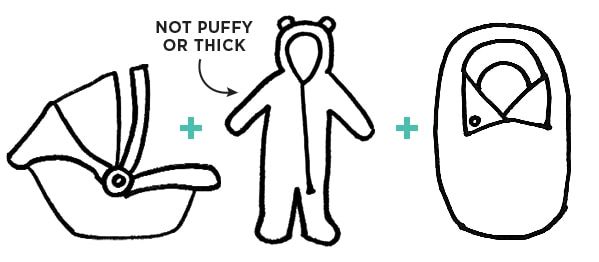 Any bunting or jacket that's got a lot of puff is great for walks, but a no-go when it comes to the car seat. This is because all that fluff and puff can compress in a collision, making the harness too loose to keep your kiddo safe.
In addition, any car seat cover you choose should be the "shower cap" style that goes over the top of the seat (rather than resting on the seat itself). You never want any material adding extra space between your baby's back and their seat which can interfere with the seat's restraint system. Make sure that any blankets you use go over the top of car seat straps and aren't left loose as they can create a suffocation risk.
Any bunting that's made of thin but warm material, like fleece, is a safe pick for the car seat, but feel free to skip it altogether and bundle your baby up OVER the straps. To keep your baby extra snug and cozy, you can add a car seat safe cover like the Skip Hop Stroll and Go, or the 7 A.M. Enfant Nido.
SAFETY TIP: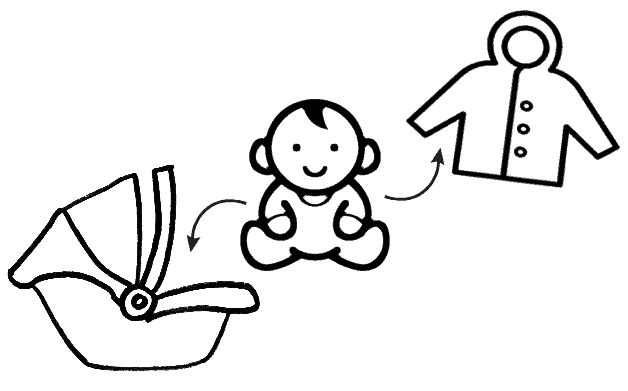 If you're not sure if your baby's outfit is safe for the car seat, put them in the seat with the coat, bunting, etc. then clip them in. Take them out of the seat, removed the coat, bunting, etc. then re-clip them into the seat without adjusting the straps. If they are loose it isn't safe for your baby. You can see what I mean in a post that The Car Seat Lady did.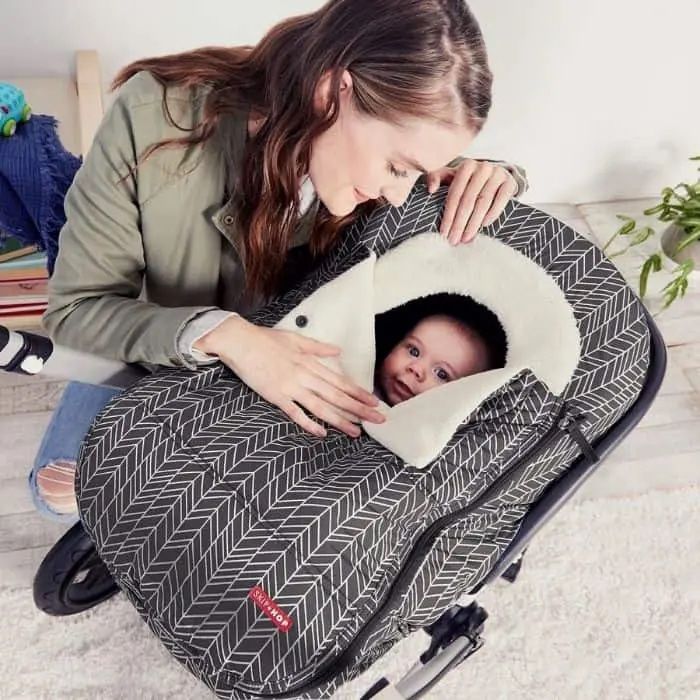 Convertible Car Seat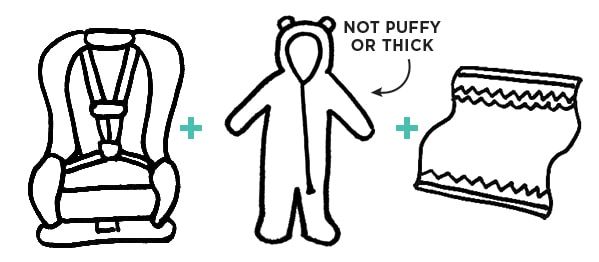 Much like the infant car seat, a polar fleece bunting suit or fleece jacket, like these ones from Columbia do wonders to keep your baby warm and don't add extra bulk under the car seat straps.
Because a convertible seat isn't always compatible with the car seat covers that can be used with infant seats, a jacket like the OneKid Road Coat, which has been specifically designed and tested for use in the car seat, are a great choice.
A car poncho is another option for adding warmth to your baby's car ride. Our favorite (free) trick is simply buckling up your baby in their warm base layer and having them stick their arms out to put their existing jacket on backward.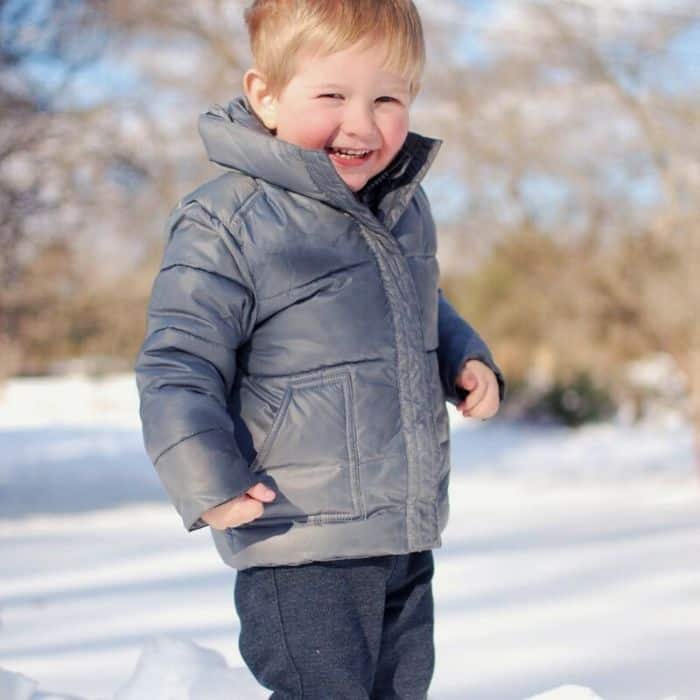 Cold Weather for Early Walkers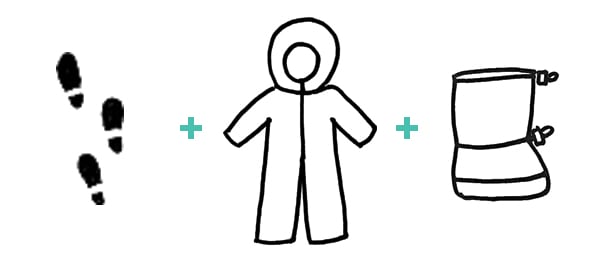 For kiddos on the move, a water-resistant or waterproof top layer is key. As the weather moves to chilly fall days that don't quite call for a winter jacket, a lined raincoat is a perfect transition piece.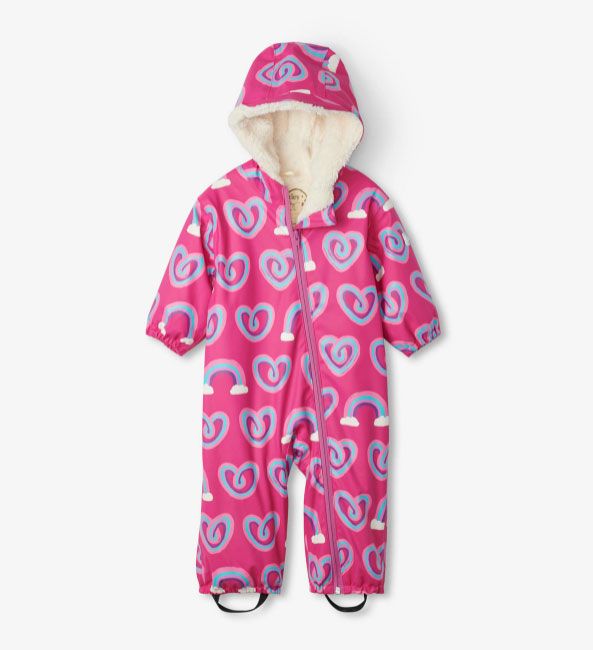 Hatley makes these color-changing Baby Bundlers and raincoats – my kids went absolutely bonkers when they realized that their jackets changed color when they got wet.
Once the snow falls, snowsuits like the Infant Snuggly Bunny Bunting from Columbia will keep your little one's body toasty warm and dry when they inevitably face plant into a huge pile of snow.
While a lot of baby snowsuits come with detachable foot covers, you'll definitely need to take those suckers off and swap them out for a great pair of boots if you've got a little walker on your hands. These booties from Stonz are perfect for newborns and early walkers and can be layered up with Stonz Bootie Liners for extra warmth.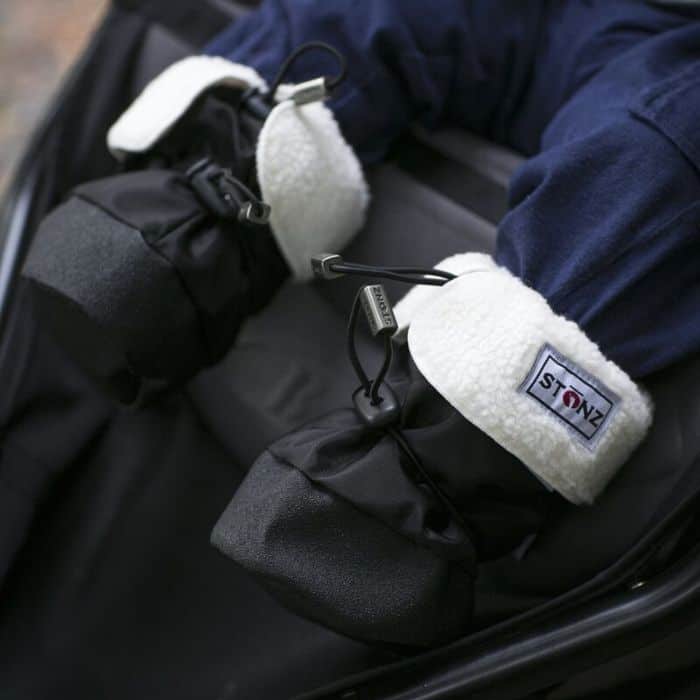 A few tips:
Layering is key when taking your baby outside to keep them nice and warm while also providing the option to remove a bit of that warmth if they start to overheat.
You'll know if your baby is too warm if their cheeks are flushed or if the nape of their neck feels sweaty or cold. You may also notice that your baby is breathing more rapidly than usual if they're too hot.
You'll know your baby is cold if they're fussy or crying and if their eyes are tearing. As a general rule, dress your baby in one more layer than you would feel comfortable in.
It's also not a bad idea to use a barrier cream (like Earth Mama Organic Baby Face Nose & Cheek Balm) on those sweet little baby cheeks to keep them from getting chapped by the wind and cold.
What cold weather baby gear do you swear by?
Do you have any tips and tricks for keeping your little one warm (and safe) in the winter? Drop them in the comments!
Our next reco: The Best Accessories To Trick Out Your Stroller