PREGNANCY
Favorite black pens for the Happy Planner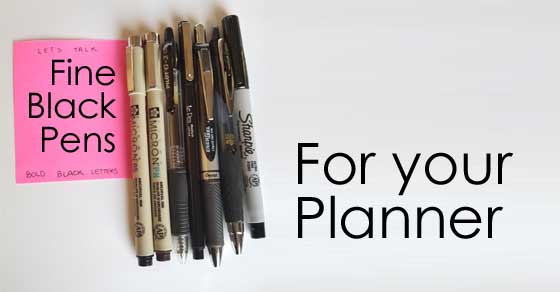 Is there anything better than a new planner? Planners are meant for PLANNING, which means a lot of writing. This post is going to talk about the best planner pens, and more specifically the best black ink fine-liner pens I use in my Happy Planner (but will work with any of the other high-quality planners)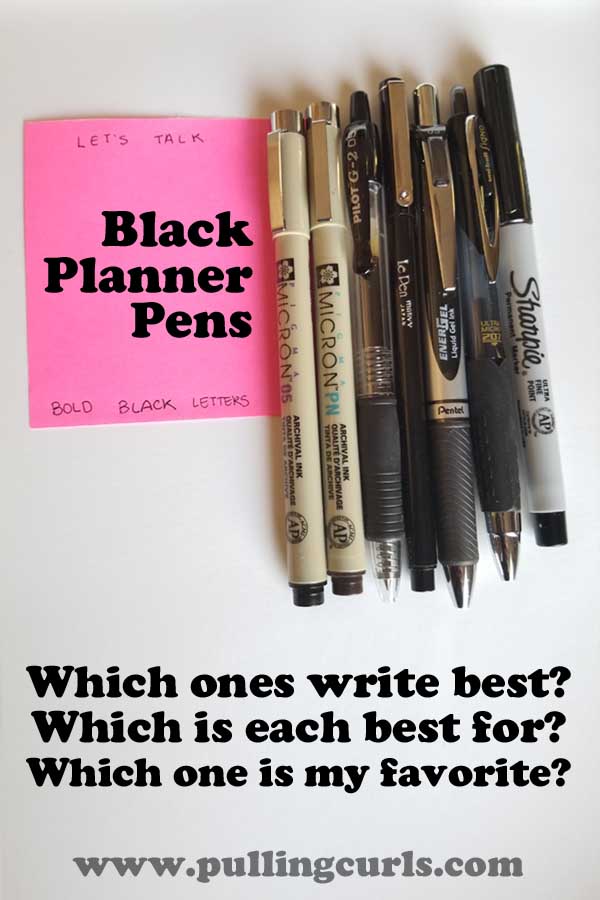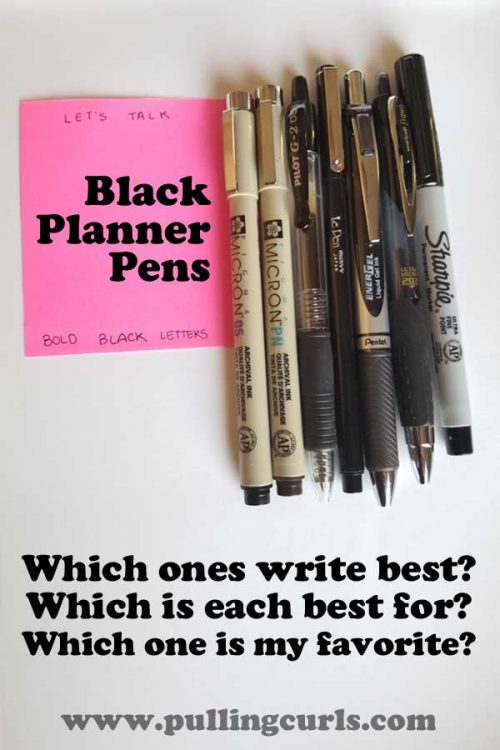 I am a planner addict. I have used paper planners for a long time. I don't use a ton of stickers (although I do love my Washi) and I really USE my planner to plan my day intentionally.
But I just go INSANE if I don't have great pens. So, I decided to take the test and try a lot of different pens to see which ones I liked best. Do you have favorite pens you use with your daily planner?
Best Pens for Planners
Pen or pencil for your planner?
I carry both. I have two pen loops on my Happy Planner and I always have both on hand. For each day, I mainly use a fine-tip pen, but for planning a few days in advance or on the monthly view I use a pencil.
Also, as a side note, these are my favorite pencils, but I also use these — and I LOVE these erasers!
FAQs about Pens in Planners:
What am I looking for in a good pen for my planner?
Best No Bleed Pens for Planners
Bleed means that you can see the pen on the back of the page. There can also be "shadowing" on the planner pages where you can just faintly see the pen. I prefer neither of these.
Fine Tip Planner Pens
I really enjoy writing small and having a very fine tip. I have pretty good handwriting and I like to jam a lot into my planner boxes. So, extra fine lines are my favorite. I even prefer it in my colored pens, although it's not as important.
Colored Pens in Planners
Full Disclosure:  Some of the pens listed were sent to me for me to review, and many I bought on my own, but these are my total and honest opinions, I was not paid to post by them.
Personally, I would put LePen, Sharpie pens, and The Sakura Micron in their own categories.
They aren't the type of pen I would use every day — but I do carry them around for different reasons (I sometimes love using bright colors for color coding in my planner)
LePen is awesome for its huge range of colors. They're a great pen, they write really well, and they have ultra-fine tips — but their colors are SO bright and bold. Recently, I took a class where I knew I wanted to share my notes with friends. Putting each section in different colors helped my brain, but also made the notes way more readable for myself and my friends. They also have a less-bold set that comes with extra blacks and blues (their blue pen is awesome).
Sharpie Ultra Fine Point has been my go-to for writing on Washi. it never smears and I keep one on hand all the time. I use Washi to plan my editorial calendar. It is just an easy way for moveable events. OR, if you have glossy stickers. Sharpie is the one to use!  
but…. I LOVE the Tombow Mono Twin. It's a bit pricier than the Sharpie but the versatility of the larger nib and the smaller one makes my heart swoon. Again, no smearing, on washi or stickers. #swoon.
Sakura Micron is the best for bold, black writing. I do not like their colored pens as much as I like the LePens. But, for black writing, I just don't think they can be beat. They're so smooth and delicious. They just have too much of a bold point for my everyday pen. Personally. I prefer the PN vs the other one (But both are fine).
I am in LOVE With these Tombow Pens. They're some of my favorite planner pens to color in designs. The colors are so vibrant, and I love how they come with a blender with brush tips. If you want to just write in your planner I LOVE how thin these twin tones are, also from Tombow. Good stuff — SO bright and colorful!
Papermate Flairs Pens are some of the most popular felt tip pens. I found that they bleed a bit, and the pack I bought had a lot of ink that was leaking out (leaving it on my fingers). I still love them and use them in my scripture journal.
One more set that is worth noting is the Spectrum Noir Artliners. A few things I LOVED about this set: ZERO bleeding. None, no shadowing, but still plenty of good ink on the front of the page. I loved the large variety of sizes. The 005 makes my thin lines heart swoon — but there's also a lovely thick one. Pretty awesome!
Colored Pens that Don't Bleed Through
I haven't found that any of those pens bleed TOO much. I sometimes see some shadowing if I go over an area more than once — so you might need to be careful with that.
As a reminder, I use the Happy Planner (you can find it at Hobby Lobby or Michaels) — but I have heard that paper is pretty similar to most high-end planners (like Erin Condren). I'm a big fan of good quality paper.
Using Colored Pens on Black Paper?
Oh my gosh, I can't not mention how much I LOVE these Spectrum Noir metallic pens. I seriously want a full black notebook — they are AMAZING!!!! I know a lot of people like to plan on black, and these would be an awesome fit! Their metallic-colored pencils are another great option.
Erasable Gel Pen in Planners
Honestly, up until now, I haven't even THOUGHT about using an "erasable" pen in my planner. Until I heard about the Pilot Frixion pen. While I don't have a whole lot of experience with it — I am loving what I have heard:
The eraser is used via friction (vs rubber) — so there are no bits of eraser left
Pen erases cleanly, vs the old erasable pens you might remember from high school
You may still have the pressure on the paper left behind, but that can't really be helped.
I have heard that in the cold or heat the pen may disappear — so I would definitely not use this in a planner you want to remember forever (or checks or any other document that needs a pen with long-term use).
Best black pen for planners 2019
Ok, so I narrowed mine down after a lot of research.
I knew I wanted a VERY fine tip. I have super small writing, so an extra fine point is important to me, to be able to pack in a lot of info in a small space.
Also, because I write a lot — writing smoothly is REALLY important to me — and you'll see that as I review these.
MOST of these pens (and frankly, most pens anymore) are gel pens. Most have quick-drying ink, but I will note if they don't. I don't use fountain pens. Maybe just too worried about smears.
Current price as of March 2018.
Signo Uniball Ultra Micro 207 Planner Pen
Initially, I tried this and found it really scratchy. A lot of these fine-tip pens seem to be like writing with a pen tip. Which, isn't my favorite.
However, I tried this one for a week and ended up REALLY liking it. I got used to that scratchy-tip feeling. I ended up a fan. But I still don't love the ease of use or how smoothly it writes.
Price: $1.58
Pilot G2 05 Planner Pen
In my initial test, I loved this. It doesn't have that pin-type tip, so it was smoother to write with. It's a bit thicker than the other two.
I still REALLY like these pens. Super smooth. Still, a huge favorite, especially if I have a lot to write (I find my hand gets less tired because it's so smooth).
Price $1.02
Pentel Energel 03 Planner Pen
This one really is like writing with a pin. I didn't give it a full week's trial because it was so scratchy. I plan to try it soon though.
For the past few months, I'd been using a thicker Energel (which I felt was too thick for my tiny writing) and I really liked it — so I hope to commit to this pen for a week to see what I think.
Price $2.28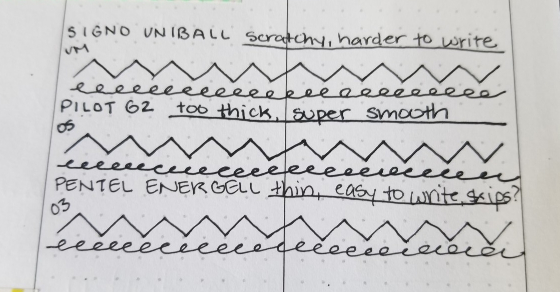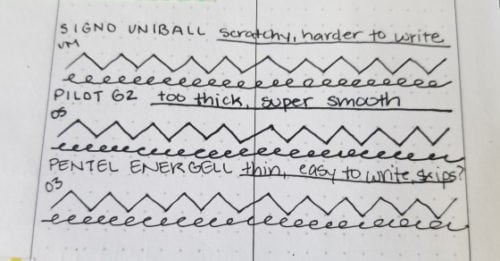 There they are in real writing in my planner. None of them had any bleeding or shadowing.
My Favorite Black Planner Pen for 2020
Initially, the winner was the UniBall Signo Ultra Micron 207. I had my husband try the 3 as well, and he found that one to be the winner for its fine tip and smoothness of writing. However, right now I'm using the Tombow Mono Twin, a Ticonderoga Pencil , and the Pilot G2 05 most often in my planner. The G2 is just easier to write with, and smoother. They all make me very happy.
So, do you have a favorite? Tell me in the comments.
In the meantime print out my hexie stickers for use in your planner. If you print them on non-glossy stickers, you could use any of these pens on them — and I absolutely love using them. 🙂 And check out my other planning posts below that.
[pt_view id="2ec714fz7h"]