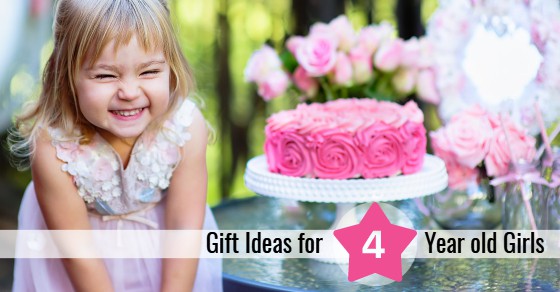 This post may contain affiliate links where I earn a small commission your purchase at no cost to you. Feel free to check my disclosure and terms for more info!
These gift ideas for your 4-year-old daughter or granddaughter will be ones she really loves! Some of these gift ideas are educational, but all are fun and something a four year olds will love to play with for a while to come.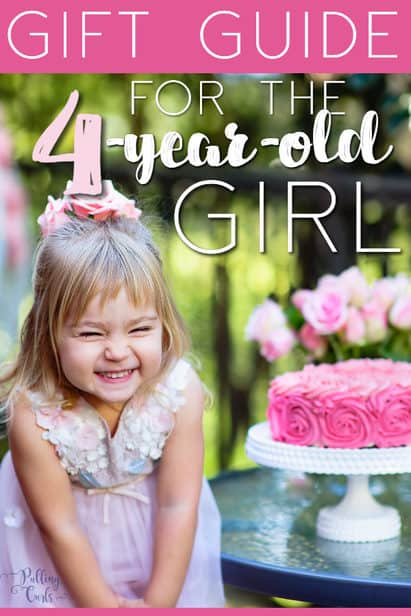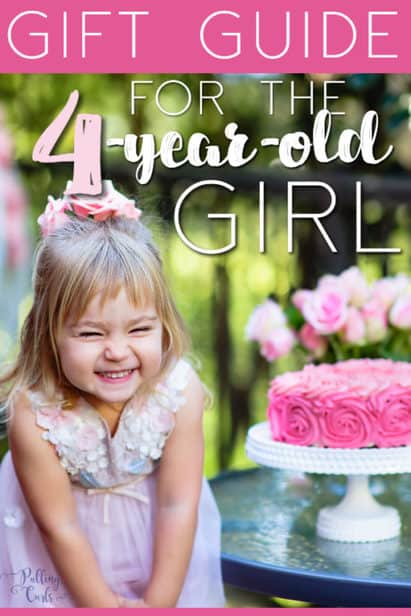 This is part of my Gift Ideas for Families Series << that post has TONS of gift ideas for everyone on your list!
Best gifts for 4-year-old-girls
Pretend Play Gifts for 4-Year-Olds
Four years old It's an exciting age because there are lots of fun activities and toys that will fit with your child's attention span.
4-year-olds love to do what you're doing (even if you don't think it sounds like very much fun). A food/kitchen set will help them do lots of "big person" tasks like a grocery store, making dinner or setting up shop. It's a fun way for young children play pretend.
Girls sometimes need a magical place to play, think or read. A tent with sparkles does just the trick! Throw in a cute sleeping bag and your little princess and her close friends will have hours of fun.
A doctor's kit can be SO useful, and it can start off talks with younger children about our bodies and keeping yourself healthy too!
Motor Skills Gifts for 4-Year-Olds
Lego is always one of the most favorite things — but take it up a notch for your little girl and get one of the princess sets! Not only will her imagination run wild, she'll love to do it with a favorite princess friend!
Pogo sticks seem fun — but can be scary if you're not coordinated right. This one is a good option for little kids to enjoy the jumping, with less risk.
What 4-year-old doesn't want to make their own jewelry? This fun, colorful set is on of the best toys– and bonus points because putting the beads together will help important eye-hand coordination skills they need.
Or, get a building set of another variety. I like how, with this one, you use a wrench to build!
One of my favorite ways for 4-year-old motor skills is stickers. Plus, it's stickers. I love PipSticks — it's good quality stickers (no commercial characters) that your child can be imaginative with!
If your little one is an artist, a great way to encourage their art is a finger painting set. Or you can get them paintbrush sets that are a little larger for their little hands to grab. This would also be a good idea if the birthday girl wanted an art-themed party.
Educational Gifts for 4-Year-Olds
I absolutely love Kiwi Crate. We did it when my youngest was 4 (I wish it had been around with my other 2 though). It's great to get, and spread out through the month to learn more about the things in the kit. Kiwi Crate is a great option. I love that they have options for older children too.
Another one, fairly similar (I prefer Kiwi Crate, but it's a close call) is Green Kids crafts.

I think Kiwi Crate is a litle more engineering-minded, and Green Kids is a bit more science-y.  Just my thoughts — if you're trying to decide between the two.
Useful Gifts for 4-year-old girls
I think Kiwi Crate is a litle more engineering-minded, and Green Kids is a bit more science-y. Just my thoughts — if you're trying to decide between the two.
Useful Gifts for 4-year-old girls
Socks are way more fun than they were when I was a kid. This set is perfect for an animal lover. They are fun little gifts.
Also, if you're looking for shoes, Flip Critts sent me a pair. They're like Crocs but more sturdy and give kids feet more support. Plus, they come in lots of fun patterns and colors!
Or, have you seen the Squishmallows? They're a great one to cuddle up with in bed. Or put your head on when you're looking at a good book.
They are so cute and SOFT — awesome for a friendly 4 year old!
The most important thing is that you keep your child's interests in mind on their special day and they will have a good time with whatever birthday treats or small toys you get them.
Don't forget my family gift guide that has tons of info for everyone on your list.
And, check out my other gift guides you might enjoy:
[pt_view id="f5a69958my"]