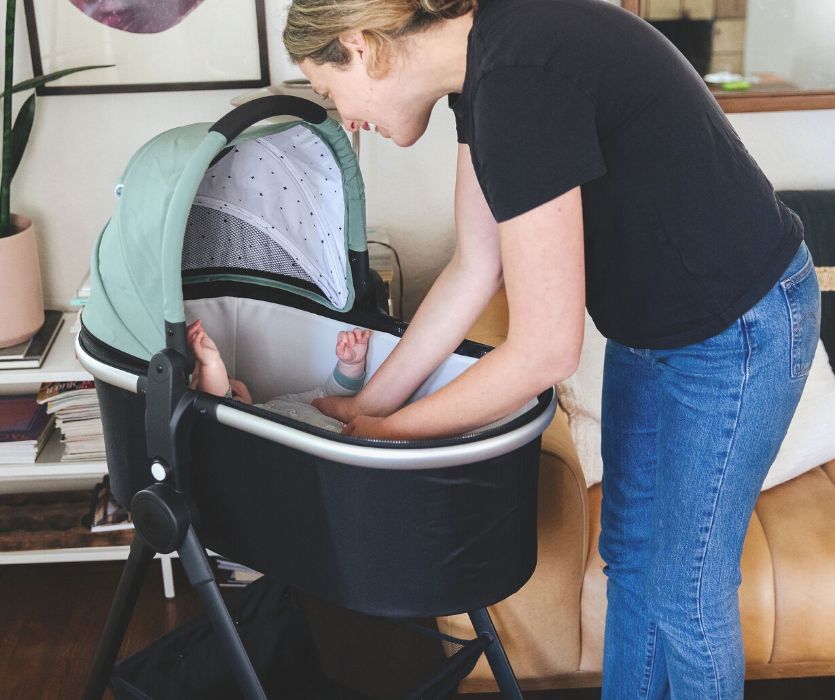 Let's talk about strollers. On the surface they seem like kind of a one trick pony, right? You pop your kid in there and schlep 'em from point A to point B. Maybe there's room for a diaper bag or an iced coffee if you're getting fancy.
But with constant pressure to outperform competing brands, stroller companies are really having to dig deep to create a product that stands out in a meaningful way. The release of the new Mockingbird bassinet and bassinet stand at the price point offered – $230 for both the stand and the bassinet – does just that.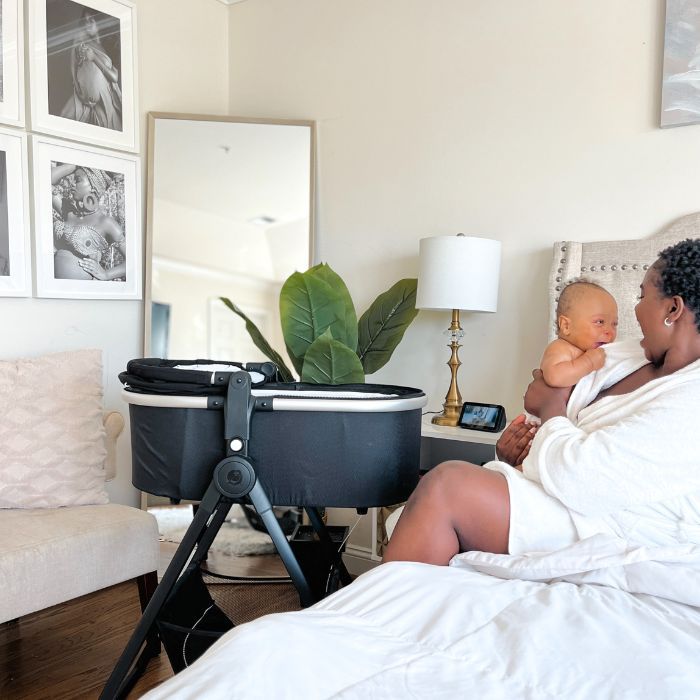 Safe sleep at home and on the go
To understand the value of this product, it's worth brushing up on infant safe sleep. In a nutshell, strollers that don't come with a bassinet aren't rated for safe overnight sleep, and not all bassinets are safe for overnight sleep. Sure, a little nap while you are cruising around your 'hood is fine, but in terms of getting a big ol' chunk of unsupervised sleep, they aren't ideal.
Safe sleep for an infant (again, briefly) means on their back, with nothing in their sleep space except a snug-fitting, firm mattress. This means car seats and traditional strollers, even when fully reclined, don't make the cut. (You can read more on that here.)
The Mockingbird bassinet and stand check those boxes (as well as all the others required by ASTM and JPMA for certification) creating a way to seamlessly transition between your nightly Witching Hour walk and sweet, sweet, safe slumber once you're back home.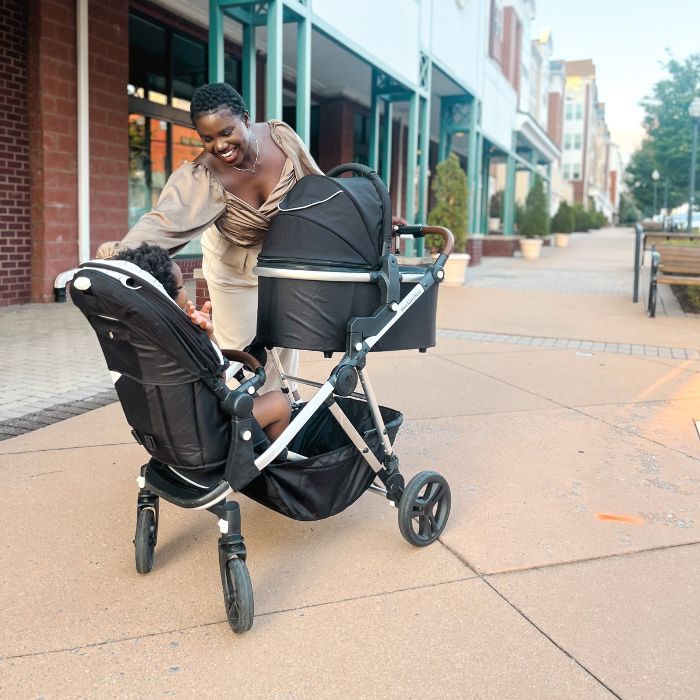 One bassinet, two jobs
The bassinet easily attaches to the stroller frame for outings, and when paired with the bassinet stand, it can be used bedside for safe overnight sleep within an arms-reach of a parent.
This multifunctionality is valuable both at home and when traveling since it reduces the number of items parents have to buy, make room for, and eventually store.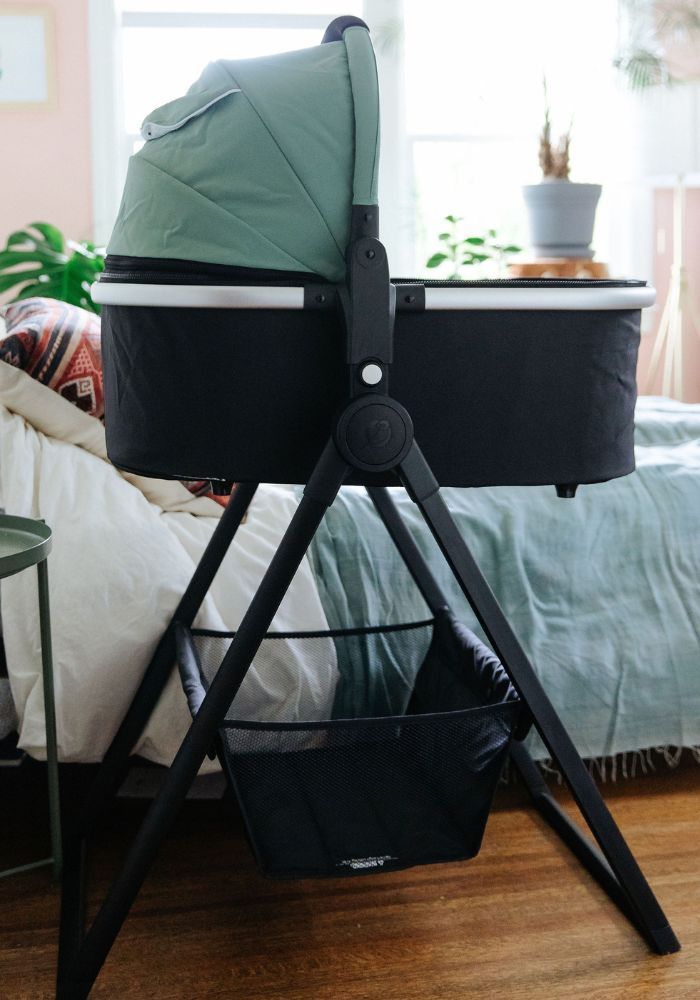 Is there a difference between the Mockingbird Carriage and the new Bassinet?
Yes. Mockingbird used to make a carriage attachment, and while it's totally safe to use for strolling around, it isn't made for extended sleep or compatible with the stand.
The new bassinet has small but important changes that were made in the name of safe sleep, including a liner that is no longer removable, a deeper basin, and the addition of the stand.
Not sure if you have a carriage or a bassinet? The bassinet has a larger product warning label at the foot of the base and the Carriage has a smaller product warning label and refers to the product as a 'Carriage accessory'. Mockingbird is here to help if you're still not sure which one you have.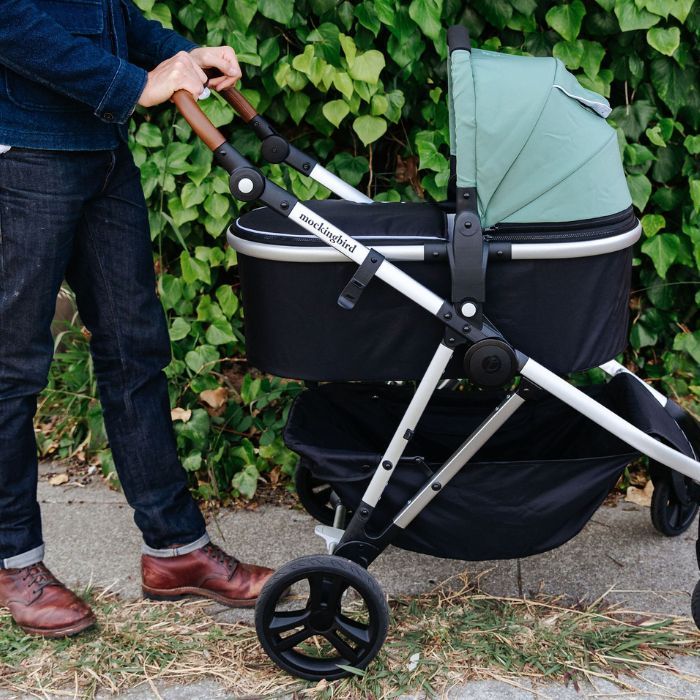 Mockingbird Bassinet $140
Safe for sleep – regardless of if it's a cat nap, a snooze on-the-go, or a glorious stretch of unsupervised overnight sleep (with the bassinet stand).
Easy to clean – The mattress pad sheet is machine washable, and the rest of it can be hand washed with a damp cloth if needed.
Up to 20 lbs – Can be used from infancy until they are pushing themselves up on their knees, or 20 pounds – whichever happens first.
Fits on the Stroller – Compatible with the single stroller (which we love) and the single to double stroller, as well as the bassinet stand. The stroller can only fit one bassinet though, so if you have or are expecting twins, you'll have to go with either two infant seat inserts or two car seat adaptors.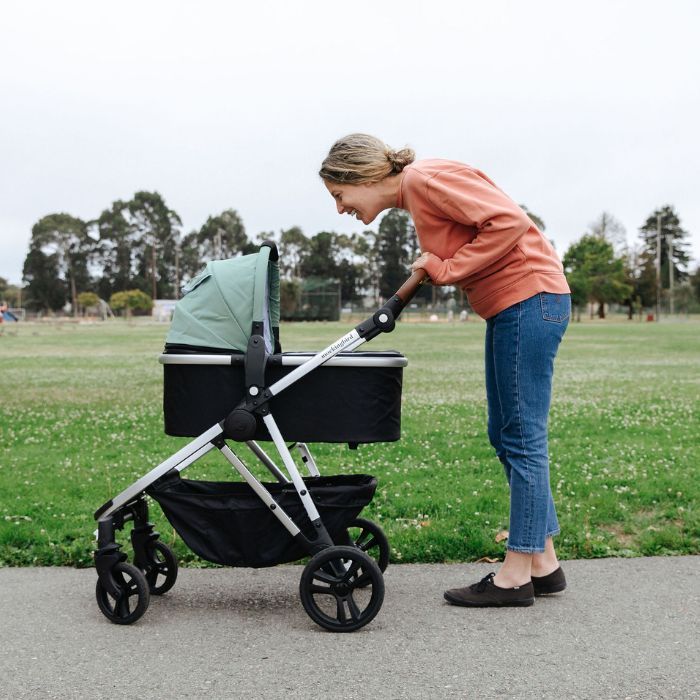 Bassinet stand $90
Seamlessly transfer the bassinet from the stroller over to the bassinet stand for safe sleep once you get to your destination.
Easy to set up and take down.
Perfect for travel or use at home.
Ideal height for bed-side use.
Folds flat for travel or storage.
Comes with a removable storage basket.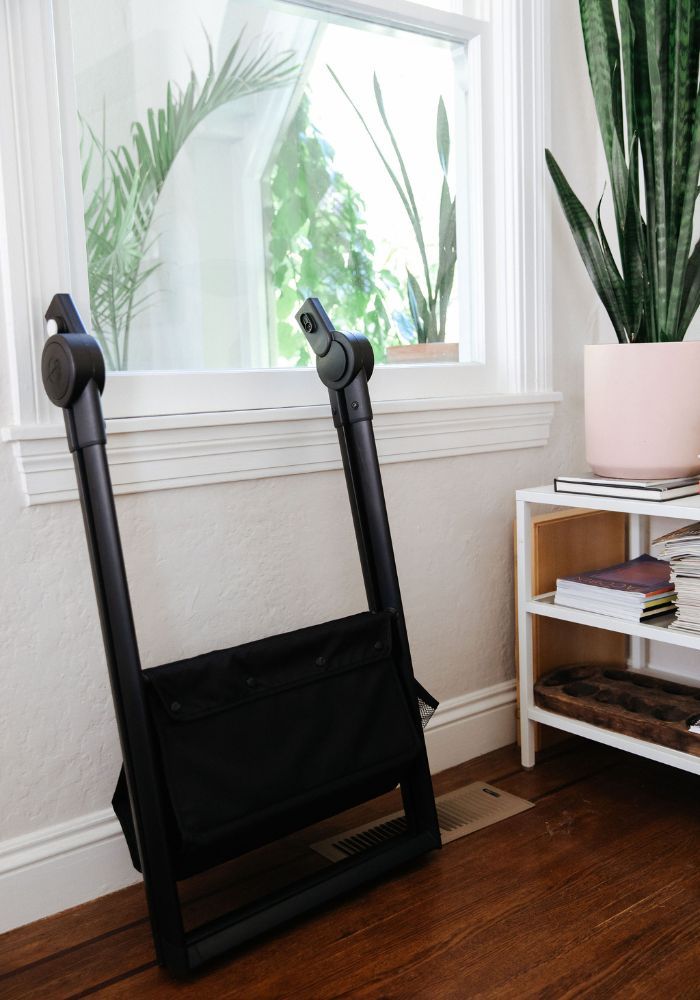 Safe sleep, multiple functions, sleek design, and a more affordable price.
The Mockingbird bassinet and stand are an innovative way to increase the functionality of your stroller at a price point that's more affordable than competing brands like the UPPAbaby Vista – the same bundle is $580 more expensive than Mockingbird.
You find both the bassinet and the bassinet stand on the Mockingbird site.
What do you think about consolidating your baby gear?
Do think a bassinet that could be used both on the go and for overnight sleep is a good idea? Let us know what you think in the comments below!
Our next reco: Mockingbird Stroller Review – Too Good to Be True?